NBC Insider Exclusive
Create a free profile to get unlimited access to exclusive show news, updates, and more!
Sign Up For Free to View
Who Are The Tallest and Shortest Quarterbacks in the NFL?
How do the NFL's 32 starting quarterbacks measure up?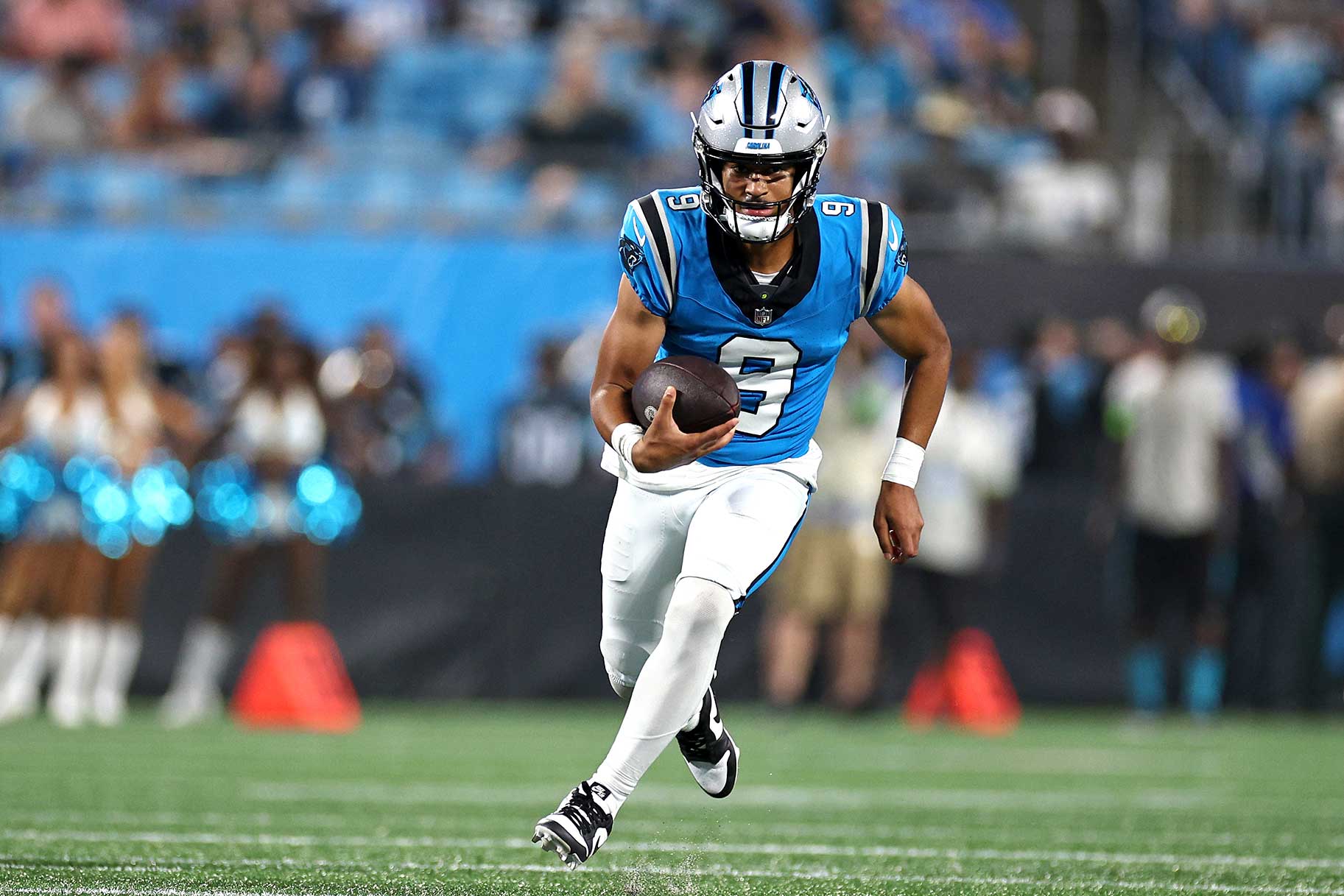 When it comes to the physicality of quarterbacks, there are all kinds of different schools of thought. Some fans, and coaches, prefer their quarterbacks big, tall enough to see over any offensive lineman, with long limbs and long reaches. Others like a quarterback who's smaller, more maneuverable, easier to miss as he quickly picks his way around the pocket. Both have a history of working, which explains why we see quarterbacks of all sizes (relative to typical quarterback stature, that is) in the NFL. 
But as all 32 teams prepare to head out with their starting lineups for season openers next month, which quarterbacks stand as the tallest in the league, and which are the shortest? Let's take a closer look at the presumed starters and how they measure up before Sunday Night Football kicks the season off.
RELATED: How to Watch Sunday Night Football on NBC and Peacock
Who Is the Tallest Quarterback in the NFL?
According to ESPN depth charts, looking at the vital stats for each quarterback currently listed as a starter, two passers are tied for the honor of being the tallest QB in the league at the moment. Measuring six feet, six inches, Jacksonville Jaguars quarterback Trevor Lawrence and San Diego Chargers quarterback Justin Herbert lead the field in terms of height this season. To find out who's taller, we'll have to get them both to stand straight up against the same doorframe, and mark their heights like they're in kindergarten. 
But other QBs aren't far behind. There's also a two-way tie for second place in the height competition, as Buffalo Bills star Josh Allen and rising New York Giants passer Daniel Jones both come in at six feet, five inches. Get an inch shorter than that, and you've got several starting quarterbacks sitting at 6'4", including Cincinnati Bengals favorite Joe Burrow, Indianapolis Colts newcomer Anthony Richardson, and newly minted Green Bay Packers starter Jordan Love.
Who Is The Shortest Quarterback in the NFL?
At just five feet, ten inches, number one overall 2023 draft pick Bryce Young (who will start his NFL career in Carolina with the Panthers), and Arizona Cardinals quarterback Kyler Murray rank as the current shortest. 
But shorter quarterbacks are certainly not uncommon. Denver Broncos starter Russell Wilson runs at just 5'11", and while no current starters are six feet even, there are several who are six feet, one inches. These include San Francisco 49ers 2022 breakout star Brock Purdy, NFC Champion Jalen Hurts in Philadelphia, and Miami Dolphins star Tua Tagovailoa.
How to Watch NBC's Sunday Night Football
The 2023 NFL season begins with NBC's Sunday Night Football, which hosts the Kickoff game between the Lions and the Chiefs on Sept. 7 and then continues every Sunday night throughout the season, with all the stars you expect, and great commentary from the legendary team of Mike Tirico and Chris Collinsworth. 
Sunday Night Football kicks off at 8:20 p.m. Eastern every week on NBC, which you can watch through your cable and satellite providers or through an over-the-air antenna. Sunday Night Football games will also stream live on Peacock for subscribers to stream anywhere.