NBC Insider Exclusive
Create a free profile to get unlimited access to exclusive show news, updates, and more!
Sign Up For Free to View
Chance the Rapper Has the Sweetest Relationship with His Kids
You've heard of Chance the Rapper, but Chance the Family Man is quite the marvel, as well. 
It's no secret that Chance the Rapper is a talented musician, but when the working day is done, the Season 23 Coach of The Voice gets to do his favorite job: dad! 
Chance has two children with his wife, Kirsten Corley: daughters Kensli, 7, and Marli, 3. Daddy-daughter dates and aww-worthy social media posts are part of the norm in Chance's world, proof that he has the sweetest relationship with his kids. 
You may have heard of Chance the Rapper, but below, take a deep dive into the life of Chance the Family Man to love this king even more. 
Chance the Rapper's daughter gave him a call in the middle of The Voice Live Shows
While chatting with Mario Lopez and Kit Hoover on Access Daily ahead of the nail-biting Season 23 Voice finale, Chance revealed his daughters love the NBC competition show and even called him in the middle of one of the Live shows. 
"They like it; they don't like me having to go to work, I think. They get a little upset about that, but they like the show," Chance said. "They watched the live [Semi-Final] the other day and my daughter just got, like, a little watch phone, so she kept calling me in between and I'm like, 'It's live, I'm literally here right now.'" 
Chance added, "But I think, they're both into music a lot, so they like the idea of, you know, seeing me on stage with a bunch of singers."
Chance the Rapper's dad-daughter outing was too cute
"We just returned from a nice lil daddy-daughter trip to LA, and she handled herself like the big girl and big sister she is!" Chance shared on Instagram. "Daddy did his job and Kensbenz did hers. Very very happy dad, and now happier to be back home."
Chance the Rapper and his daughter were honored to bump into Martin Short
Airplanes tend to prove how small the world can be, as demonstrated by Chance's recent run-in with famed comedian Martin Short while traveling with Kensli. Chance took to Twitter to commemorate the wild encounter. 
"So I just got on this plane with my daughter, and found out our seats weren't next to each other," the Grammy-Award-winning Artist tweeted in February 2023. "I really ain't wanna inconvenience anyone by asking them to swap seats, but before I could say anything this kind older gentleman offered his seat to Kensli so we could sit together."
Chance continued the story during his March 6 appearance on The Tonight Show Starring Jimmy Fallon. "I looked him in his face and I'm like, 'Are you Martin Short?'" Chance said. "And it was Martin Short! It was the Martin Short! He's amazing!" 
Chance the Rapper penned a thoughtful tribute to Marli for her birthday
"Happy first birthday, my forever daughter," Chance captioned the August 2020 IG post, showing a smiley-faced Marli beaming. "I have learned so, so much about fatherhood from YOU, miss Marli Grace. I now clearly see the limitations of what I owe to this world versus what I owe the family that keeps me. May God bless this birthday and every one after, for He is your forever Father."
In August 2021, Chance wrote another thoughtful IG tribute for his youngest daughter, this time for her 2nd birthday. "My youngest turns 2 today," Chance captioned the sweet slideshow of Marli's baby pics. "The world isn't ready for you Mar! You are a FORCE. I love you."
Chance the Rapper brought his adorable daughters to The Tonight Show
Chance has some seriously iconic moments with Jimmy Fallon, but many shy in comparison to when he brought his daughters on the show in March 2023. Chance reflected on the family outing on Instagram, posting a pic of Kensli and Marli gleefully focused on defeating Fallon in a friendly game of Tic-Tac-Toe. "Beating uncle Jimmy in Tic-Tac-Toe between breaks," Chance captioned the IG photo. 
Chance the Rapper wants to collaborate with Peppa Pig to create a track for his kids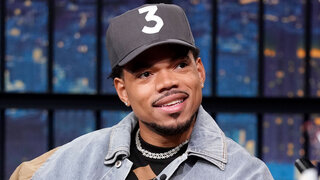 Chance's kids didn't tag along for filming during his May appearance on Late Night with Seth Meyers, but their presence was still felt as Chance discussed Season 23 of The Voice and the 10th anniversary of his breakout mixtape, Acid Rap. When asked what his kids think of his music, the "Good Day" rapper said they love his sound but prefer the childhood classics. 
"Yeah, they do like my music. They're more into, like, Peppa Pig, and their contemporaries," Chance teased with Meyers. "But, like, I have a few songs that they'll listen to. They like a song called 'Let's Go on the Run' a lot." 
"Do you ever think, I mean, in a desperate attempt to gain their affection, would you do a collaboration with Peppa [Pig]?" Meyers asked Chance.
"Out of my own desperation, I'd do a collaboration with Peppa," Chance quipped. "Like Peppa, if you're listening right now, like, I'm trying to work, or at least get some autographs for my kids. Shout out to Peppa Pig!" 
Peppa isn't alone among Chance's desired collaborators, either; a certain nautical icon also earned a mention. 
"And the Baby Shark also!" Chance revealed.
"You'd work with Baby Shark?" Meyers asked.
"I would in a heartbeat," Chance confirmed. Let's keep our fingers crossed for that amazing remix! 
Chance the Rapper is his daughters' biggest cheerleader
Chance posted an adorable video of himself providing a Shabooya Roll Call for his daughters. Watch, above.
Chance the Rapper built a bike for his daughter Kensli
Chance made the most out of quarantine in 2020. At the time, he spoke to PEOPLE about the joys of spending more time at home with his daughters. 
"[Kensli] had this little kid's bike that, I don't know how it works, but they make these bikes that don't have pedals on them. I don't know where the kids' legs are supposed to go!" Chance recounted. "Kensli just walks it around the house sometimes. It was just sad, and I was like, 'Man, you need a real bike.'"
Chance the Rapper takes scholastic milestones seriously
In June 2021, Chance made a thoughtful Instagram post about Kensli finishing kindergarten. 
"Kensli finished Kindergarten at home with flying colors!! Her September birthday would've placed her in preschool again this past school year, but nothing is stopping this genius!!!" Chance captioned the cute IG snippet. ":...Her Social and Emotional skills are better than some adults, like I'm literally so proud 🥲 She's moving on to the FIRST GRADE and tested in the 97 percentile in math and 99 percentile for reading... OUT OF THE KIDS THATS OLDER THAN HER. If u ever met my dad you would understand I come from a long line of people being extremely proud of their kids, but KENSLI YOU GIVE ME THE BEST REASONS #graduation."
In September 2022, Chance took to Instagram again to celebrate Kensli entering the second grade. 
Chance took his mini-me daughters to his Chicago-based literacy event
Chance is one of the proud founders of Chance & Bri's Books & Breakfast, a free literacy event established through Boundless Early Education that is designed for 3-8-year-old children and seeks to support families in "nurturing strong early readers." In an Instagram post from the event, Kensli and Marli look like they're having a blast. 
"Chicago I would never tell u to bring your kids somewhere, that I don't trust to bring my own kids @chance.bris_books.breakfast," Chance captioned the August 2022 IG video. Both girls delight in the festivities and even grab ahold of their father's iconic "3" hat a few times, a feat only Chance's children could (literally) pull off. 
Chance the Rapper reveals both of his daughter's first words
As an avid family man, it's no wonder Marli's first word was inspired by her father. "Her first word was 'Dada,' which I'm proud to say both of my girls' first words were 'Dad' basically," Chance told PEOPLE in 2020. "She calls everybody 'Dada' now. She even calls her toys and her pacifier 'Dada,' so that's just her go-to phrase now."