NBC Insider Exclusive
Create a free profile to get unlimited access to exclusive show news, updates, and more!
Sign Up For Free to View
Bryce Leatherwood Revealed the Special Woman in His Life for His New Single
The Voice winner's latest track may mean something different than you think.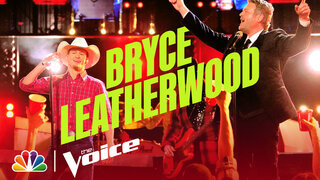 Bryce Leatherwood is working on a gorgeous new tune! 
On May 17, the Season 22 The Voice winner gave fans a sneak-peak of a new original song that he's working on via his official Instagram page. The lovely song tells the story of Leatherwood admiring the qualities of a special woman in his life, with a twist revealed at the end. 
"She don't mind roses on Valentine's Day but she'd rather have daises," Leatherwood started to croon while strumming his acoustic guitar. "She can back a bass boat in the lake and she's good with babies," he continued passionately. 
"She ain't scared of Skoal Wintergreen if you lay one on her, she's every good ol' boy's dream, hell, who wouldn't want her?" he sang.
"She knows all about football, knows NASCAR, and the Bible like the back of her hand, knows her way around a wine list, but is fine with a cold Coors light of a can," he continued.
Then, for the reveal of who the song is about: "She likes the way Brut 33 smells, she's honeysuckle sweet, she's funny as hell, she's sunset pretty, don't mind the city but she'd rather live outside of town. And one of these days I just might settle down, if I could find me a girl like the one that daddy found," he sang with confidence. Yes, he's talking about his mom.
"Here's a sneak peak of an original I wrote with Chris Dubois and Lynn Hutton called 'The One My Daddy Found' Comment what y'all think! #original #singer #country #bryceleatherwood #thevoice #theonemydaddyfound #foryou #fyp #sneakpeak," Leatherwood captioned the post. 
"The One My Daddy Found" isn't the only original tune under Leatherwood's belt recently. Earlier this week, he also posted about another song he wrote titled "Last Thing on My Mind." The emotional track tells the story about someone struggling with a breakup. 
It looks like Leatherwood is keeping up with his plan to release new original music after his The Voice victory. In an interview with NBC Insider, Leatherwood explained what fans should expect for his future endeavors as a musician. 
"Definitely releasing a lot of music. Playing shows. That's what I love to do: play shows. But I want to get some original content out there. I want to get an album or two out there in the next couple years. So many people have given so much love to me, It's time to give back to them. So whether that's music or playing shows and festivals, making people happy is my goal," he said.