NBC Insider Exclusive
Create a free profile to get unlimited access to exclusive show news, updates, and more!
Sign Up For Free to View
Bryce Leatherwood Plays Guitar and Sounds Breathtaking in New Song About Heartbreak
The Voice Season 23 winner showcased all of his skills while teasing an upcoming track.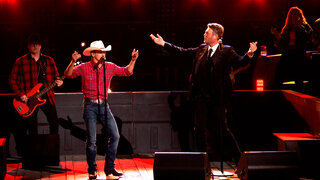 Bryce Leatherwood just teased some awesome new music!
On May 14, The Voice Season 22 winner took to his official Instagram page to preview an upcoming original country song. The touching tune, called "Last Thing on My Mind" tells the story of someone who regrets letting their lover go because they didn't make them a priority in their life. 
"Now I hear you loud and clear now that you're not here, and I'm all alone," he crooned emotionally while strumming his acoustic guitar. 
"Baby you're the last thing on my mind," he continued. "When the sun sets through the blinds, it reminds me of all I didn't do, and I start missing you. Because without warning, first thing in the morning, and every time I'm pouring my last drink at night, baby you're the last thing on my mind," he pulled off some heavenly riffs, immersing himself in the music. 
"Here's an sneak peak of an original I wrote with @daveturnbullmusic and @tommykarlas called Last Thing on My Mind' y'all comment what y'all think! #original #country #thevoice #bryceleatherwood #lastthingonmymind #songwriter #acm #cma #foryou," he captioned the post.
Leatherwood has been up to a lot of creative endeavors since getting his victory on The Voice. His national tour kicks off this week, where he will be hitting 16 cities while on the road. In an interview with NBC Insider in December 2022, Leatherwood also gave fans a teaser on what they should expect next with his career.
"Definitely releasing a lot of music. Playing shows. That's what I love to do: play shows. But I want to get some original content out there. I want to get an album or two out there in the next couple years. So many people have given so much love to me, It's time to give back to them. So whether that's music or playing shows and festivals, making people happy is my goal," he said. 
He also talked about the emotions that were going through him when it was first announced that he was the Season 22 Winner.
"I was just shook. It was like I was living a dream. Then there was the confetti and loud energy. Thank God, because you would've heard me sobbing. I was just so happy to make my family proud and make a lot of people proud. A lot of people have been voting their butts off and doing the best they could to push me through to the next round and next round. It  was just cool to see that hard work pay off," he told us.