NBC Insider Exclusive
Create a free profile to get unlimited access to exclusive show news, updates, and more!
Sign Up For Free to View
Bryce Leatherwood Was Called on Stage for a Surprise Duet with Craig Morgan
Leatherwood and Morgan's duet sounded like a match made in heaven.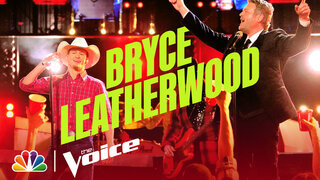 As proven by his jaw-dropping Season 22 win on The Voice, Bryce Leatherwood is a big fan of a powerhouse duet. Leatherwood has been performing his heart out since his life-changing victory, recently teaming up with iconic country star Craig Morgan to deliver a chilling performance of Morgan's track, "Almost Home."
During a concert in Woodstock, GA during the weekend of May 13, Morgan called upon Leatherwood to perform an electrifying duet of his song, "Almost Home." The crowd went wild while hearing the Season 22 Artist's insane vocals, effortlessly harmonizing along with Morgan during the milestone-making set.
"Last night was another absolutely incredible experience being able to sing with Craig Morgan in my hometown," Leatherwood shared on IG following the performance. "What an amazing man Craig is and what a surprise it was to have him call me up." Leatherwood is currently gearing up for a nationwide tour in Summer 2023, so this was the perfect kick-off to get him in the superstar headspace. 
Watch Leatherwood and Morgan's mesmerizing performance, below: 
What to know about "Almost Home" by Craig Morgan.
"Almost Home" is an emotional country ballad about a man reflecting on his most cherished memories from childhood. Morgan released the catchy tune in 2002 as part of his I Love It album, later remastering the track in 2020. Morgan landed his first Top 10 hit on the U.S. country music charts with "Almost Home," and also earned his first "Song of the Year" award from BMI. Since its release, "Almost Home" continues to hold a special place in many country music lover's hearts, so it's no surprise Leatherwood delivered such a riveting performance. 
The lyrics to "Almost Home" by Craig Morgan.
He had plastic bags wrapped 'round his shoes
He was covered with the evening news
Had a pair of old wool socks on his hands
The bank sign was flashing five below
It was freezing rain an' spittin' snow
He was curled up behind some garbage cans
I was afraid that he was dead
I gave him a gentle shake
When he opened up his eyes
I said, "Old man are you ok?"
He said, I just climbed out of a cottonwood tree
I was runnin' from some honey bees
Drip dryin' in the summer breeze
After jumpin' into Calico creek
I was walkin' down an old dirt road
Past a field of hay that had just been mowed
Man I wish you'd just left me alone
'Cause I was almost home
Then he said, I was just comin' round the barn
'Bout the time he grabbed my arm
When I heard momma holler, son hurry up
I was close enough for my own nose
To smell fresh cobbler on the stove
And I saw daddy loadin' up the truck
Cane poles on the tailgate
Bobbers blowin' in the wind
Since July of '55
That's as close as I've been
Yeah, I just climbed out of a cottonwood tree
I was runnin' from some honey bees
Drip dryin' in the summer breeze
After jumpin' into Calico creek
I was walkin' down an old dirt road
Past a field of hay that had just been mowed
Man I wish you'd just left me alone
I was almost home
I said, "Old man you're gonna freeze to death
Let me drive you to a mission"
He said, "Boy if you'd left me alone
Right now I'd be fishin'
I just climbed out of a cottonwood tree
I was runnin' from some honey bees
Drip dryin' in the summer breeze
After jumpin' into Calico creek
I was walkin' down an old dirt road
Past a field of hay that had just been mowed
Man I wish you'd just left me alone
'Cause I was almost home (almost home)
Man I wish you'd just left me alone
I was almost home