NBC Insider Exclusive
Create a free profile to get unlimited access to exclusive show news, updates, and more!
Sign Up For Free to View
Blake Shelton Has the Sweetest Name for Gwen Stefani in His Phone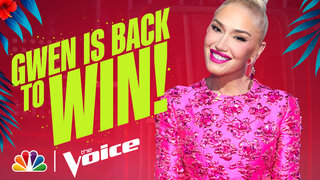 Blake Shelton and Gwen Stefani are sweetly still in their honeymoon phase after seven years—at least, according to what Shelton has Stefani saved as in his phone.
With metaphoric hearts in his eyes, Shelton explained on The Today Show that even though he's been married to Stefani for over a year, the relationship still feels as exciting as it did when they first started dating. In fact, he confessed that her contact name in his phone is still "My Girlfriend."
"It still seems like it's pretty new to me," Shelton elaborated. "The nervous phase is still there." How sweet!
Watch: Blake Shelton and Gwen Stefani Take Playful Competition to the Next Level
While promoting his recent single "No Body," Shelton also mentioned that he believes that Stefani would likely be a fan of the luscious '80s-inspired mullet that he sported in his new music video.  "To Gwen that's like an exotic, weird thing, that she was never around people who had mullets," he said. "To her it's cool, and she probably wishes that I had one."
Then, when interviewer Hoda Kotb asked if Shelton would support his wife and fellow Coach on the new season of The Voice, Shelton responded that he's on the show to win, regardless of how he feels about the competition. "They're all going down," he said. 
On the other side, Shelton revealed to Jimmy Fallon that his wife has different feelings on the matter. "If she were sitting here right now, she would tell you she's not that competitive," he said. Looks like the couple balances each other out!
To see some cute banter between Shelton and Stefani, be sure to check out Season 22 of The Voice premiering Monday, September 19 at 8/7c on NBC. Then, watch all season Mondays and Tuesdays at 8/7c and next day on Peacock.