NBC Insider Exclusive
Create a free profile to get unlimited access to exclusive show news, updates, and more!
Sign Up For Free to View
Jung Kook Talks Going Solo and Explains His Golden Album Title's Meaning
Jung Kook told Jimmy Fallon that his solo success is "beyond my imagination," before trying some NYC pizza and explained his mom's connection to his Golden album name. 
As a member of massively-popular South Korean pop group BTS, singer Jung Kook has visited The Tonight Show Starring Jimmy Fallon before: The "Dynamite" group have made ten appearances on the show, in fact, including a five-night "BTS week" takeover in 2020—so it's safe to say Jimmy Fallon's a huge fan and supporter. 
Jung Kook returned to The Tonight Show for an amazing late night solo debut on November 6, performing his new Golden single, "Standing Next to You," and catching up with Fallon. 
The Host kicked things off by congratulating Jung Kook on breaking his own streaming record.
"Your single 'Seven' made history by being the fastest song in history to reach 1 billion streams," Fallon said, as the news was met with applause. "A few weeks ago, you replaced yourself on Spotify's list of most streamed songs in the world!"
Then, Fallon got to break some news to Jung Kook that made him stand up to do a happy dance: "Seven" has just gone platinum. 
RELATED: How to Get Tickets to The Tonight Show Starring Jimmy Fallon
"You really make it sound like I'm a huge global pop star," Jung Kook joked. 
Shifting into his native Korean, Jung Kook shared his more sincere reaction to his solo success. "Frankly speaking, I was confident, but this is beyond my imagination. And I am very grateful to ARMY," he said, shouting out BTS's committed fandom. "Because if it was not for ARMY, this would not be possible."
Jung Kook explains his Golden album title meaning
"'Golden,' that's a nickname for you, right?" Fallon asked Jung Kook, who released the solo album on November 3.
Junk Kook explained that Golden Maknae "means the youngest of the group in Korean," and added that fellow BTS member RM "coined that nickname."
But the Golden title also has a beautiful connection to Jung Kook's mother, and the life he's had in his 26 years. "I have a lot of association to this term 'golden,' and when my mom was pregnant, she had a golden dream," he shared. "If I look back on my journey, it's very much a golden moment. So when I thought about the title of the album, Golden awas the only thing that came up in my mind."
He also added that he'd love to do a solo world tour—once he has more songs in his catalog. 
"On November 20, I'm having a concert that will also be livestreamed," Jung Kook.
"If you need an opening act, I can do two or three songs," Fallon offered. In the meantime, Jung Kook gave Fallon a quick dance lesson to pick up some "Standing Next to You" choreo. 
What does Jung Kook do for fun?
Curious about the person behind the smash hits, Fallon wanted to know what Jung Kook likes to do for fun when he's not living the life of a megastar.
Same as a lot of people, he said. "Sometimes I spend the whole day in bed," he said, or cooking mak-guksu, a South Korean buckwheat noodle dish—which he promised to cook for Fallon sometime. 
While they didn't have any noodles on hand, Fallon did grab Jung Kook a New York City pizza to try.
Which members of BTS have appeared solo on The Tonight Show Starring Jimmy Fallon?
Jimin
Of BTS's members—RM, V, Jung Kook, Jin, Suga, Jimin, and J-Hope—Jung Kook is the third to strike out on his own with a Tonight Show visit.
Jimin paid Fallon a visit during his own U.S. solo debut back in March 2023, to perform the dreamy electro bop "Like Crazy" and give Fallon a quick dance lesson.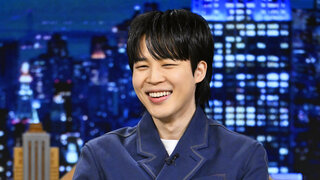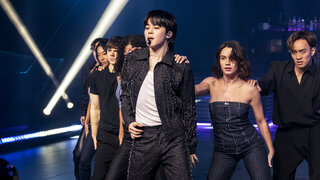 SUGA
Suga was a solo guest just two months later in May 2023, when he performed rap track "Haegeum" as Agust D and play a game of "Imposter Challenge" with Fallon. 
Originally published Nov 2, 2023.