NBC Insider Exclusive
Create a free profile to get unlimited access to exclusive show news, updates, and more!
Sign Up For Free to View
What Happened to Kate Pearson's Husband Toby Damon on This Is Us?
Here's this loving father's full journey with the Pearson family.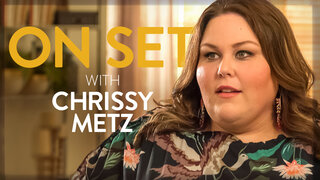 After This Is Us premiered in 2016, the "Big Three" Pearson triplets were welcomed in homes across the nation, and Kate Pearson (Chrissy Metz) in particular always provided sentimental, sweet family moments. So, it was no surprise that fans everywhere were rooting for her happiness. 
A large part of Kate's journey was her relationship with Toby Damon (Chris Sullivan), which certainly had its ups and downs. Relive their complicated marriage that — through it all — solidified Toby's place within the Pearson family. 
When Did Toby First Appear on This Is Us?
Toby was an original cast member of the show, appearing in the pilot episode in 2016. He and Kate met at a group called Overeaters Anonymous, where he flirted with her and eventually asked her out. Kate was clear from the beginning that she needed him to be committed to his own weight loss journey if they were going to be together, and he made the promise to do so. 
RELATED: This Is Us's Chrissy Metz's Career, From Entourage to Stay Awake
However, Toby later dropped out of his program, prompting him and Kate to take some time apart. In Season 1 Episode 10 ("Last Christmas"), Toby flew across the country to try to win Kate back, but the episode ended on a cliffhanger when he had a heart attack and was rushed to the hospital. 
When did Toby and Kate get married?
After over a year of dating, the beloved couple tied the knot with their whole family present in Season 2 Episode 18 ("The Wedding"). Kate spent the day missing her late father, Jack Pearson (Milo Ventimiglia) and hunting for his old favorite ice cream flavor to include in her wedding cake. She had also forgotten to bring her father's t-shirt, and Toby tried to hire someone on TaskRabbit to bring it to her. 

As he got dressed for the wedding, Toby's parents came to tell him not to marry Kate. "It feels like you are constantly bending over backwards to calm her," Toby's father said, expressing concerns about their relationship. "Remember when she broke up with you for no reason and you had to fly across the country?" his mom said, calling Kate unstable. 

RELATED: Chris Sullivan Shares Powerful, Never-Before-Seen Toby-Kate Moment on This Is Us

"If anyone's unstable, I'm unstable. I'm unstably in love with Kate Pearson," Toby told them. He asked them to either choose to be in the wedding and support them or to leave, and they decided to stay and were seen dancing with the happy couple throughout the night. 
Toby and Kate's Parenthood Journey 
Before their wedding together, Kate found out she was pregnant, but immediately had medical concerns. In Season 2 Episode 9 ("Number One"), her one brother Randall Pearson (Sterling K. Brown) revealed to their other brother, Kevin (Justin Hartley), that "Kate lost the baby."
In the following episode, ("Number Two") — which happened on the same timeline as Number One — we saw Kate experience excitement about her pregnancy before the miscarriage. 
As she measured their tub to make sure that their baby bath would fit, Kate fell off-screen and screamed for Toby. They rushed to the doctor, and it was clear that she had miscarried. "You can try again in as early as four weeks," the doctor said to them, but Kate was too upset to process that information. 
The two started their IVF journey in Season 3 Episode 2 ("A Philadelphia Story"), which required Toby to get off his anti-depressants, leading to a mental health issue for him. In Season 3 Episode 5 ("Toby"), audiences got a deeper look into Toby's tough childhood, which illuminated why he went into a depressive episode without medication. As that happened, he and Kate found out that their treatment had worked and she was pregnant. 
In Season 3 Episode 15 ("The Waiting Room"), Kate went into labor early — at just 28 weeks — and delivered their son, Jack, who was rushed to the NICU and said to be blind due to the premature birth.
On Jack's first birthday, Toby and Kate decided they wanted another child, and chose to look into adoption. Fans officially met their adopted daughter, Hailey, as an adult in Season 4 Episode 18 ("Strangers Part Two"). 
When Did Kate and Toby Get Divorced?
Throughout the show, flash forwards hinted at Toby and Kate's eventual breakup, and that came to fruition in Season 6 when the couple was in a long-distance relationship. Kate considered moving to San Francisco to be with Toby, but ultimately decided she couldn't, which led to an even bigger rift. 

In Season 6, Episode 12 ("Katoby"), Kate and Toby attempted to work out their issues in couples therapy, but she finally asked for a divorce, saying that someday Toby would understand why they simply could work out as a couple.

A flash forward in the episode showed Toby telling Kate that he finally got why they needed to divorce, and the older versions of themselves were clearly peaceful coparents to their two children. 
To see their full love story, stream all six seasons of This Is Us on NBC.com.