NBC Insider Exclusive
Create a free profile to get unlimited access to exclusive show news, updates, and more!
Sign Up For Free to View
Chris Sullivan Shares Powerful, Never-Before-Seen Toby-Kate Moment on This Is Us
Toby's reactions in this scene are so real and moving.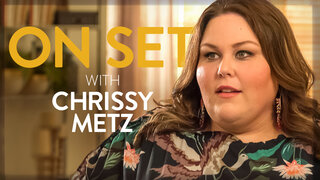 This Is Us fans now have a brand new glimpse into Chris Sullivan's acting process. 
On June 10, Sullivan (Toby) shared an intimate video of himself filming an emotional scene in Season 5 of the show. The moment in question is when his wife, Kate (Chrissy Metz), confronts her toxic ex-boyfriend, Marc (Austin Abrams), and Toby watches from the sidelines in his car for support. In the video, we hear an offstage voice walking Sullivan through the scene and giving him directions on how to act. 
"OK, so Chrissy is now walking across the street to Marc," the voice says. "Oh god, you must be nervous for her. OK, so she's made contact with Marc; they're just chit-chatting. He doesn't recognize her, of course, because he's so narcissistic. They're talking, and then his boss comes out the front door of the store and calls him over to talk to him because he's a ne'er-do-well.He runs over there, at that point Chrissy may look at you; there's her support system." Sullivan makes subtle acting choices during this direction that are quite effective. 
"She's waiting...what is she gonna say? Marc comes back. Now she's sort of facing you in this direction. So they're talking, 'What did you think of our relationship...'?" the voice continues. 
However, things then take a turn. The voice goes, "She's like, 'You know what Marc? F**** this.' She starts walking back towards the car. He stops her. 'Hey. I'm sorry. We were two kids in love,' and all of that beautiful stuff." 
The voice continues, "And all of a sudden, she's like, 'Let me say something to you.' And she starts letting him have it. And he tries to cut her off, and she's like, 'No. You let me speak, and here I go. And I'm telling you what you did to my life. You effed me up. You made me feel small and little and who are you, you little rodent?' And they fight. She's like, all woman, hear me roar. You couldn't be prouder of her that she's done this on her own and she took care of the demons that are inside of her. And you love her more than anything, and this is great news. And here she starts coming back towards her actual night in shining armor. And it's all beautiful. And you love her." 
"Oh my god. I forgot all about this. This is just one long take of Toby giving reaction to Kate meeting up with her old boyfriend, Marc. Receiving LIVE direction…and scene!🎬 #bts #thisisus #fbf #katoby #nsfw," Sullivan captioned the IG post. 
"Ahh, this is too good!" Metz commented.
In an interview with Entertainment Weekly, Metz herself opened up about this scene. "You would think that someone in 20 years would evolve, and would have enough wherewithal, and the delusion might subside a bit," she said. "I just thought, 'Wow, he really hasn't changed!' And there are people that we all know that never do. Yeah, when I was actually reading it, I was like, 'Ooh, I want her to go off on him!' And then I thought, 'You know what? By saying what she said, she said everything she needed to say.' And it wasn't about him ever. It was always about her. Initially I was like, 'I want to just light him up!' But you know, that's not always the way of grief and loss and closure."