NBC Insider Exclusive
Create a free profile to get unlimited access to exclusive show news, updates, and more!
Sign Up For Free to View
Here's When Chrissy Metz Thinks the This Is Us Cast Could Film a Reunion
"Anything's possible," Metz teased to ET.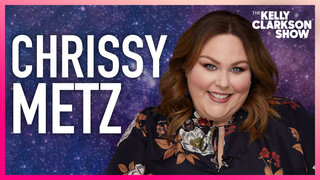 A potential This Is Us reunion show? Never say never!
In a recent interview with ET, Chrissy Metz (Kate Pearson) gave TIU fans a glimmer of hope when it comes to the cast getting back together again. 
"I would [be down]," Metz told the outlet. "I'm like, where would it be set?"
"I mean, anything's possible," she added. "I think everybody wants to see it. Every single time I see someone they're like, 'We wish the show was still on.' I'm like, 'Me too.' You know, job security. But I do love the show and everybody involved."
So what, exactly, would this hypothetical show entail? Metz has some creative ideas. "I think, like, in 10 years and we're all, like, 50-ish, I think that will be cute, a little reunion," she said. "Fingers crossed. It takes a while to make art, y'all!" One can only dream! 
Metz also has some ideas about where this reunion could be set: Nashville, Tennessee. 
"There's so much talent," Metz said about the city. "In the airport, literally every single person is talented, whether they're playing an instrument or they're singing their face off at [Blake Shelton's] Ole Red. Everybody's talented here. And everybody's a songwriter. It's everywhere. It's all the time. It's so exciting. You're around it all the time. And I feel like it's a very communal city, which is nice. People like working together."
In late May, Metz actually got together with her former co-stars Mandy Moore (Rebecca Pearson) and Susan Kelechi Watson (Beth Pearson) and  posted a sweet photo from the hangout. 
"Sing it with me…reunited and it feels so good! Love you Ladies!
@mandymooremm @susankelechiwatson @nbcthisisus #thisisus #stillus," she captioned the Instagram post. 
Meanwhile, Metz and her boyfriend of three years, Bradley Collins, have been going strong. She recently posted a heartwarming tribute to him on Instagram for their anniversary: 
"Three whole years, Babe, and through a pandemic and all! Look at us just loving each other and creating together. Growing and learning from one another. You are a dream to me. Happy 3rd Anniversay, my love, @bradley_collins ✨❤️😘," Metz gushed in the caption.