NBC Insider Exclusive
Create a free profile to get unlimited access to exclusive show news, updates, and more!
Sign Up For Free to View
How The Dryes' Couple Audition Sparked the Wildest Coach Battle of the Season
It made Blake Shelton deliver an, erm, colorful joke.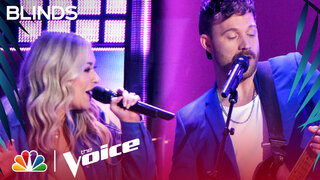 Derek and Katelyn Drye, known professionally as the country-music duo The Dryes, had an ace in the hole with their Blind Audition on The Voice, which aired September 26th. They opted to sing "Islands in the Stream" by Dolly Parton and Kenny Rogers, a track that scratched itches for both Blake Shelton and Gwen Stefani. Both Coaches turned their chairs around, creating yet another couple's battle—arguably the most spirited one yet. 
Why, you ask? Well, in Shelton's plea for The Dryes to join his team, he made this, erm, colorful joke: "I can speak from experience. There's no better way to duet than if you're doing it."
Related: Gwen Stefani Had the Cutest Reaction to Blake's Phone Going Off
The audience, Coaches, and Dryes laughed, with John Legend giving Shelton a little side-eye and saying, "I think you guys gotta pick Gwen just from that [joke]." 
But it wasn't an easy decision. Both Shelton and Stefani made strong cases for The Dryes.  "You're gonna break [Gwen and Blake] up by forcing them to fight over you," Legend quipped. And while he was definitely kidding, it's clear both Stefani and Shelton really wanted The Dryes on their squads. 
"That song ["Islands in the Stream"] would be my dream, if me and Blake could do that song together one day," Stefani told Derek and Katelyn. "...I think it would be really fun to work with you guys, especially because whatever genre you're in, it doesn't really matter. At the end of the day, we're trying to figure out how we're gonna connect you with America. I think that's what I'm good at. Yes, Blake knows country music. I am an Okie now, as well...I think I could be a good Coach for you guys." 
Meanwhile, Shelton played to his strengths, telling The Dryes, "Country music is all I've ever done. You hear me talking right now. I can't help it. I would be honored to be your country Coach." 
Unsurprisingly, The Dryes went Team Blake⁠—but not before Camila Cabello could make the second zaniest joke of the night. "From a blind date to the Blinds," she said, referring to the fact Derek and Katelyn met on a blind date. This is the Coach bantering we live for! 
And we live for Artists like The Dryes, as well. Watch their journey on The Voice unfold on NBC Mondays and Tuesdays at 8/7c and next day on Peacock.