NBC Insider Exclusive
Create a free profile to get unlimited access to exclusive show news, updates, and more!
Sign Up For Free to View
Reneé Rapp Hit the Wildest High Notes Singing "Tummy Hurts" on Seth Meyers
Singer and actress Reneé Rapp performed her Snow Angel single and also talked to Seth Meyers about the meaning of her "I Hate Boston" song and billboard.
2023 has been a huge year for Reneé Rapp. As Seth Meyers pointed out during her October 30 visit to Late Night with Seth Meyers, her album, Snow Angel, is the highest-selling solo debut from a female artist this year. And Rapp's currently taking her songs on the road with her national Snow Hard Feelings tour.
Those who haven't yet discovered Rapp's music, nor fell in love with her character Leighton Murray on the first two seasons of Max series The Sex Lives of College Girls, met Rapp for the first time on Late Night. Backed by her band, Rapp belted her earworm "Tummy Hurts" single on the talk show, boasting incredible vocals while wearing a Halloween-color-schemed black outfit and furry orange oversized coat.  
After hitting those sweet high notes, Rapp ended her sultry performance with a cozy moment alongside the guitarist, musician Towa Bird, as she softly sang the closing lines. 
Reneé Rapp explains her "I Hate Boston" billboard and song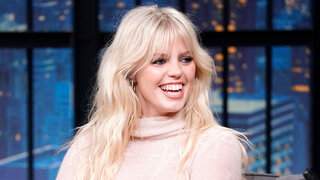 Rapp sat down with Seth Meyers ahead of her performance, and the proud New England-bred Host had to inquire about a certain buzzy billboard he'd recently become aware of. 
RELATED: Who's on Late Night with Seth Meyers This Week?
"Can I speak for my New England community?" Meyers asked Rapp, explaining that he has a connection to Boston by way of his southern New Hampshire roots. "I can understand why someone would hate Boston, let me make that clear, as somebody who loves it deeply."
Explaining that Rapp has a song titled "I Hate Boston," Meyers furnished a photo of a promotional I HATE BOSTON billboard that was erected in the city. "Seems aggressive," Meyers joked.
"To be super transparent, it's not even about Boston," Rapp admitted about the song.
"You could see why Boston might ask you, then, 'why the title'," Meyers pressed. 
Rapp went on to explain that "I wasn't gonna give my ex's city any recognition," and her promotion has angered a lot of "old white men from Boston."
"Decrepit is our preferred term," Meyers said. 
Watch Seth Meyers' interview with Renee Rapp above, and watch Late Night with Seth Meyers weeknights at 12:35/11:35c on NBC and next day on Peacock.