NBC Insider Exclusive
Create a free profile to get unlimited access to exclusive show news, updates, and more!
Sign Up For Free to View
Reba McEntire's Cover of "So Far Away" by Carole King Is Deeply Moving
Not a dry eye in the audience!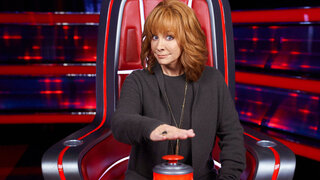 The Voice Season 24 Coach Reba McEntire knows how to connect with audiences and channel deep emotions with her musical performances, and a special moment during her 2000s sitcom Reba is a prime example of this.
In Season 2, Episode 15 of Reba, McEntire's character, Reba Hart, was in the process of mourning her friend Terry's unexpected death. Since "So Far Away" by Carole King was a personal favorite of Terry's, Hart decided to do an impromptu performance of the song as a tribute to him.
Given the high emotional stakes, she sang the introspective lyrics with a heavy heart and her own unique tone. Her signature country twang shined through while she crooned gently, working through tears and reflecting on memories of her late friend. After her performance, the live in-studio audience cheered loudly.
About "So Far Away" by Carole King 
Written by King, "So Far Away" is a song off her legendary 1971 album, Tapestry. The moving lyrics tell the story of someone who is lonely and missing their lover, both physically and emotionally, in a fast-paced world. James Taylor played guitar on the track, which is considered by music critics to be one of King's best songs. 
"So Far Away" by Carole King lyrics
So far away
Doesn't anybody stay in one place anymore?
It would be so fine to see your face at my door
Doesn't help to know you're just time away
Long ago, I reached for you and there you stood
Holding you again could only do me good
How I wish I could, but you're so far away
One more song about movin' along the highway
Can't say much of anything that's new
If I could only work this life out my way
I'd rather spend it bein' close to you
But you're so far away
Doesn't anybody stay in one place anymore?
It would be so fine to see your face at my door
Doesn't help to know you're so far away
Yeah, you're so far away
Traveling around sure gets me down and lonely
Nothing else to do but close my mind
I sure hope the road don't come to own me
There's so many dreams I've yet to find
But you're so far away
Doesn't anybody stay in one place anymore?
It would be so fine to see your face at my door
It doesn't help to know you're so far away
Yeah, you're so far away
Hey, you're so far away
Thank you, you were very kind