NBC Insider Exclusive
Create a free profile to get unlimited access to exclusive show news, updates, and more!
Sign Up For Free to View
Why Did Blake Shelton Tell Reba McEntire to Lose His Number?
Reba McEntire is already planning her coaching strategy for the next season of The Voice, but don't expect her to get a lot of advice from Blake Shelton.
Country legend Reba McEntire will step into her new role as a Coach on The Voice next season — but just don't expect departing Coach Blake Shelton to ease the transition. 
Shelton, who sat in the Coaches' chair for 23 seasons, seems to have adopted a hands-off approach to mentorship, according to McEntire.
NBC Insider caught up with McEntire earlier this week on The Voice's semi-final red carpet and asked whether her preparations to step into the new role would include any long phone calls with Shelton. 
It turns out, that's not likely.
"You know what he told me?" she said of the perpetual jokester. "Lose my number. It's what he told me. He said, 'Just lose it. Don't call me, I'll call you. I will watch and if you need help, ask John [Legend].'"
Legend will join McEntire as a Coach in Season 24 along with Gwen Stefani and this season's new coach Niall Horan.
RELATED: Gwen Stefani Shared Sweet, Rare Footage of Her Kids at Blake's Walk of Fame Event
Even without Shelton's advice, America's "Queen of Country" already has her approach figured out and said next season she'll be looking for more than just country artists.
"I got to admit something. I don't like categories, and I don't like to be corralled and fenced in. So I'm going to go with the talent, with the song and how they sing in the song," she said. "I'll know it from my gut feeling whether I want to turn the chair or not. Absolutely."
McEntire — who already got her feet wet this season while serving as The Voice's Mega Mentor — is already gearing up for her new role as Coach and even hilariously slipped into Shelton's chair during the live semi-finals after Shelton briefly stepped away.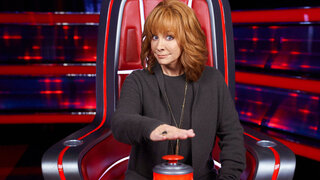 The "Fancy" and "I'm a Survivor" singer looked quite comfortable in the chair and wasn't too eager to give it up when Shelton returned. 
"You know, I still have a week left in this chair if you don't mind," he said. 
"No. I like this chair!" she joked. 
McEntire eventually relented and the two country icons embraced, proving there's nothing but love between the two. Shelton has even called McEntire one of "the greatest country artists of all time" in an earlier episode. 
RELATED: Blake Shelton Is "Most Comfortable" Here: See Where He Lives
Shelton announced he'd be leaving the show in late 2022 after more than a decade mentoring new talent on the competition as a Coach.
"I've been wrestling with this for a while, and I've decided that it's time for me to step away from The Voice after Season 23," Shelton said in a statement at the time. "This show has changed my life in every way for the better, and it will always feel like home to me. It's been a hell of a ride over these 12 years of chair turns, and I want to thank everyone at The Voice from NBC, every producer, the writers, musicians, crew and catering people; you are the best."
The finale will mark Shelton's final night on The Voice before he steps away.
- Reporting by Tara Bennett