NBC Insider Exclusive
Create a free profile to get unlimited access to exclusive show news, updates, and more!
Sign Up For Free to View
Milo Ventimiglia Revealed the Person He Misses the Most From This Is Us
"I miss my friend," he said. Watch Ventimiglia as Jack Pearson on This Is Us on NBC.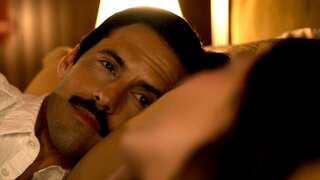 Milo Ventimiglia is clearly still sentimental about his This Is Us days. Although he is very close with all his former co-stars, there is one specific cast member who holds a special place in his heart.
"Mandy Moore," Ventimiglia told InStyle with certainty when asked what he misses the most about playing Jack Pearson.
"I miss my friend," he said in a touching moment.
However, the two are still keeping in touch on the regular. "We've recently sent some messages back and forth," he added. "I was checking in on her and her husband, and the babies, and whatnot, and she [was] checking in on life over here."
Ventimiglia is currently starring in the upcoming TV drama The Company You Keep. In an interview with Access, he dropped some names when asked about what his dream This Is Us reunion would be for his new series.  
"I mean listen, can I get Mandy Moore behind the lens? Yes, I would love to. Can I get Jen Morrison (Cassidy) in? Yes, I'd love to," he said.
What isn't a dream but reality is the fact the This Is Us crew is working on The Company You Keep.  "I got just about everybody. I mean, listen, we did it successfully for five, almost six years together. Why not take a winning team? I mean, you win the Super Bowl five times in a row, like, 'Hey, why don't we just keep playing, but we're gonna wear different uniforms?'" he added. "That's the way that I saw it. And also, me, I know that I like to be around my friends. I like to work with my friends."
He told Entertainment Weekly about working with the same crew, "One, it sets up a positive environment. Two, it sets up a reliable environment. I don't have to think about any of my departments that I worked six years with on This Is Us, because I know their level of quality. I know their level of creative. I know their level of respect to those that they're working with. It gave us such an advantage to know the machine already worked…. And now, we're hitting a stride where my crew is becoming everybody else's crew." 
Watch every episode of This Is Us on NBC.