NBC Insider Exclusive
Create a free profile to get unlimited access to exclusive show news, updates, and more!
Sign Up For Free to View
Mandy Moore Threw an Adorable Party For Her Son's 2nd Birthday—See All the Pics
Happy birthday to Moore's mini-me, Gus! Watch every episode of This Is Us on NBC.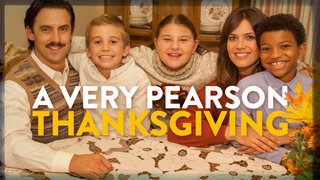 Mandy Moore's son, Gus, just turned two!
On February 12, the This Is Us star posted the most adorable photos of her celebrating the big day with her family. From the Instagram carousel, it looks like they had a super-fun picnic with loved ones! 
In the first snapshot on her official Instagram page, Moore's husband, Taylor Goldsmith, holds the toddler in front of a lavishly-decorated birthday cake while both parents look at him lovingly. Moore then holds her hands in front of the candles while Gus looks curiously. Next, we catch a glimpse of Moore's father-in-law holding their other son, Ozzie, as they both look into the camera. Moore then sits on the ground holding Ozzie while Gus stands in front of some balloons.
The next snapshot shows another toddler giving Gus a hug. How cute! Moore then holds Gus in her arms while grinning ear to ear. Then, the camera zooms out to show the whole gathering behind an assortment of balloons. The next picture showed a close up of the birthday cake decorated with a fun construction worker theme. In the last photo, Gus is the singular star, holding up some balloons and gripping a toy car in his hand.
"While we were home, we had an early Birthday bash with friends and family for Goosey. 2 years with the sweetest, goofiest guy has absolutely flown by. We're the luckiest folks around to be in your orbit, Gus Goldsmith. Also, this cake by @danielle_keene was a showstopper!! 🎂 Oh and anyone that says Ozzie looks like me (or Taylor) hasn't met my father-in-law 😂," Mandy Moore gushed in the caption. See the photos here. 
"He's 2?!! Already?!!!! #Lawdamercy," This Is Us co-star Sterling K. Brown commented.
"Happy Birthday, Gus! 🎉🎂🌟" Chrissy Metz added in support.
In an interview with Health, Moore opened up about the journey of motherhood. "Every day is different," she said. "It is overwhelming on a level that I never expected. All of the clichés are true. The love is so immediate. In the very beginning it was like, 'Oh, you're nursing. The baby's sleeping.' You figure out your routine. Then maybe three months in, [it] felt like, 'I don't know what I'm doing. I don't have the skill set for this. Maybe I'm not a good mother.' I questioned everything. I looked at my husband, who seemed so at ease—it was so natural for him. I felt bad about myself and what I brought to the table as a mom. And it made me question everything. And I was like, 'Is this feeling going to last forever? Am I just going to feel unworthy, [and] unprepared? Is this just the foreseeable future?' And a week later, I found my equilibrium again. I remember people telling me that everything is a phase and not to get too set in your ways about anything—and it's true."
Watch every episode of This Is Us on NBC.