NBC Insider Exclusive
Create a free profile to get unlimited access to exclusive show news, updates, and more!
Sign Up For Free to View
Kelly Clarkson Says Her 'Healing' New Album Is Coming in 2023⁠—Get the Details
Season 4 of The Kelly Clarkson Show premieres so soon, too!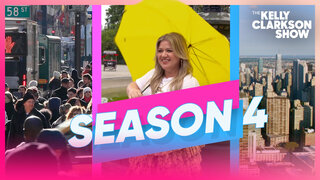 The wait is almost over, Kelly Clarkson fans: The pop icon's highly-anticipated 10th studio album is coming in 2023, and she tells Variety, "This is an important album." 
Clarkson's last album, When Christmas Comes Around, dropped in October 2021, but she hasn't released a non-holiday record since 2017's Meaning of Life.
"I have a hard time vocalizing what I'm feeling sometimes, so music is helpful for me," Clarkson tells Variety. "It's just been really healing. I recorded the [new] record quite some time ago."
Two years ago, to be exact⁠—and Clarkson wrote and recorded dozens of tracks for the project. "My producer and I were laughing yesterday because I was like, 'Remember that time we wrote, like, 25 songs in a week?' A lot of those are the ones that are on the album," she says. "I literally wrote most of these almost two years ago." 
Of course, it's not exactly surprising Clarkson's needed a minute to finalize the album. She's one of the busiest women in Hollywood, having recently hosted the inaugural season of NBC's American Song Contest with Snoop Dogg, wrapped up several seasons as a Coach on The Voice, and, of course, helmed her own talk show, The Kelly Clarkson Show, which kicks off Season 4 on September 12th. The new season will, naturally, feature brand-new Kellyokes—Clarkson's signature karaoke segment on the show—and guests like First Lady Jill Biden, Hillary and Chelsea Clinton,  Billy Eichner, Cynthia Erivo, and returning Voice Coach Gwen Stefani. 
"I can't believe it's already Season 4!" Clarkson says about her talk show. "We are feeling so blessed by all the support we've received and are feeling so inspired and excited to keep connecting with y'all. I had a great summer off, but I missed my team and we are refueled and ready to have some fun and highlight some incredible stories and people!"
We are ready for some new music, too. While no official release date has been set for Clarkson's 10th studio album, 2023 is when fans can expect it. And they can expect some live shows, too, but Clarkson isn't sure in what capacity right now. 
"I definitely am going to do shows. We're figuring that out," she says, adding that all her fans are invited to  "scream at the top of their lungs" with her. 
We'll be there. And until then, Season 4 of The Kelly Clarkson Show kicks off September 12. Check your local listings for times.