NBC Insider Exclusive
Create a free profile to get unlimited access to exclusive show news, updates, and more!
Sign Up For Free to View
You Won't Believe the Job John Legend Had Before He Became Famous
The Voice Coach learned some valuable lessons before he broke into the music scene.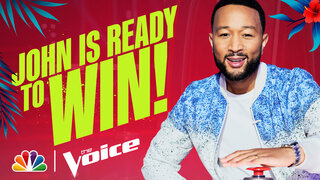 While most people know singer-songwriter John Legend as a beloved Coach on The Voice (who will be joining the show for Seasons 24 and 25) and a 12-time Grammy Award winner, his fate could have been much different, as he originally chose a more traditional path with his career.
When Legend first graduated from the University of Pennsylvania in 1999, he took a position at Boston Consulting Group, one of the world's largest management consulting firms, as a business management consultant.  
While he ended up switching gears with his career — as one of the most awarded musicians of our time — Legend actually benefitted from the corporate experience. In a 2018 interview with CNBC, Legend opened up about how the job helped shape him and his future success as a creative artist. 
"I learned a lot. I met a lot of great people, I'm still friends with a lot of those folks, too. I think it just ups your level of expectation for the kind of business you want to work with. And how you work in teams, how you come to good decisions as a team, and I think all of those things helped me in my career, as a musician," Legend explained to reporter John Hardwood.
Legend received acceptances from both Harvard and Georgetown for undergrad, and ultimately chose to attend the Ivy League UPenn. 
RELATED: How John Legend Became One of 18 EGOT Winners in History
When Legend spoke at his alma matter in 2014, he discussed why he chose to change his trajectory in business and follow music instead. "I had followed the path that the Penn graduate was supposed to take, but I didn't fall in love. I couldn't shake my passion for music," he said during his speech.   
"It's much cooler to be detached and apathetic, right? We all like a little snark and cynicism and irony, especially from our favorite artists and comedians and writers. I get it," Legend also said. "But that cool detachment only gets you so far. Passion gets you a lot further. It makes you a better entrepreneur, a better leader, a better philanthropist, a better friend, a better lover."
The decision ended up working out well for Legend, as he became the 13th EGOT winner in history in 2018. The "Ordinary People" singer took to his official Instagram page shorty after the victory to celebrate his achievement and honor those who have influenced him along the way. 
"Before tonight, only 12 people had won an Emmy, Grammy, Oscar and Tony in competitive categories," Legend wrote. "Sirs Andrew Lloyd Webber, Tim Rice and I joined that group when we won an Emmy for our production of their legendary show Jesus Christ Superstar. So happy to be part of this team. So honored they trusted me to play Jesus Christ. So amazed to be in such rarefied air."