NBC Insider Exclusive
Create a free profile to get unlimited access to exclusive show news, updates, and more!
Sign Up For Free to View
John Legend Once Was a Repairman's Assistant Before Starting His Music Career
Legend has lived a fascinating life, long before he took the stage as a Coach for The Voice.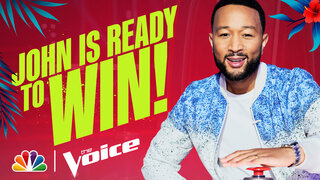 John Legend has paved an impressive career for himself as a worldwide singer and Coach for The Voice. 
Legend's vocal prowess and experience as a musician have led him to become one of the most iconic faces in the industry and a valued long-time Coach to numerous Voice Artists. Considering his impressive collection of accolades (he is an EGOT winner, after all!), and larger-than-life presence on The Voice, it may be hard to imagine that even for Legend, there was and is a first time for everything.
Ahead of the exciting Season 22 premiere of The Voice, Legend opened up about some of his "first times." This performer's milestones may surprise you! 
John Legend's first job was as a music repairman's assistant
It only makes sense that the future EGOT winner's first job had him surrounded by music. "My first job was at a music store, a place called Kincaid's in Springfield Ohio, where I grew up," Legend revealed to NBC. "I worked for the repairman, he would repair all the orchestra and band instruments that would come in, and I was his assistant."
John Legend's first passion was music and reading
While many might expect Legend's first true love was music, not as many people know that Legend is also a known bookworm. "My first passion was music," Legend explained. "I also liked reading the encyclopedia because I'm also a nerd."
The first time John Legend heard his music was as a student in Philadelphia
Legend has been passionate about music since childhood, so he hit the ground running when it came to starting his music career. "The first time I ever heard myself on the radio was as a student at the University of Pennsylvania," Legend explained. "I was going to school there and living in Philadelphia. And my first demo album, we promoted this one song called "Is it Alright?" to radio. And I heard it in my car, on 105.3 WDAS FM, an R& B station in Philadelphia, and I'll never forget it!"
Legend's beginnings were an exciting precursor to the industry experiences he'd experience as an artist and Voice Coach. Catch John Legend when he returns for The Voice Season 22, premiering Monday, September 19 at 8/7c on NBC and next day on Peacock.