NBC Insider Exclusive
Create a free profile to get unlimited access to exclusive show news, updates, and more!
Sign Up For Free to View
Heidi Klum Just Confirmed That We're Not Ready for Her "Giant" 2023 Halloween Costume
Heidi Klum's 2023 costume is gonna be huge, literally. "I have to close down a few streets in Manhattan," the AGT Host teased on The Tonight Show Starring Jimmy Fallon. 
For literal decades, Halloween queen and America's Got Talent Judge Heidi Klum has wowed us with costumed looks every October 31st. Look no further than Klum's 2022 Halloween costume-turned-meme: The supermodel, producer, and Host dressed as a worm alongside husband Tom Kaulitz, who went as a fisherman.
"I love the fantasy of it all," Klum said of her self-described Halloween shenanigans. "I love becoming someone else, for people to guess."
While it boggles the mind how Klum manages to turn out inventive costumes every Halloween season, she spilled one detail about her 2023 Halloween costume during an October 27 visit to The Tonight Show Starring Jimmy Fallon. 
"Can you hint at what you're going to be this year?" Jimmy Fallon asked Klum, who will co-Host America's Got Talent: Fantasy League in 2024.
"No, because I always like it to be a surprise," Klum said. "Otherwise, people are like, 'Oh, she's gonna be this,' and then I show up and they say 'eh, it wasn't as good as I thought she was gonna do.'"
That said, prepare for Klum's 2023 costume to be huge. Literally. 
RELATED: Every Single One of Heidi Klum's Wacky Halloween Costumes Since 2000
"It's gonna be gigantic," Klum told Fallon. "And I have to close a few streets down here in Manhattan—which is very hard to do, by the way!" Fallon appeared shocked and bewildered by this clue, which, same.
"Wait, so it's a giant costume?" Fallon said. "Are you a Transformer, like an 18-wheeler? Are you a giant robot that transforms? I guessed it," Fallon said. 
"No, you didn't," Klum replied.
Heidi Klum looks back at her viral 2022 worm costume
"Last year I was a cute little rain worm," Klum told the audience, understating her 2022 costume's impact just a tad. 
Looking this good—or, as Fallon described it, "terrifying"—took some serious sacrifices, Klum shared. 
"This was very hard. I was very claustrophobic because basically they had to tie my arms down in order to be in this position," Klum said. "And then my face was glued to the outside of it, so I couldn't really move my face any which way. I was just stuck."
For three hours before her costume's big debut, Klum continued, "I wouldn't eat anymore, I wouldn't drink anything because...I mean, I guess I could've worn a diaper in there, but I didn't." You have to respect the commitment. 
RELATED: Heidi Klum Assures Fans She's OK After Fall During AGT: Fantasy League Filming
Klum's discomfort notwithstanding, the costume looked incredible. Fallon shared the hilarious video from Klum's Halloween party, in which she did wormlike undulations behind The Roots' Questlove while he DJed in a spacesuit.
"I think you should host a Halloween special for NBC," Fallon said, pitching Heidi-Ween in a stroke of genius.
Heidi Klum and Jimmy Fallon play "Egg Roulette"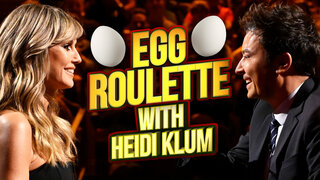 Klum also joined Fallon for a round of "Egg Roulette," hosted by Tonight Show announcer Steve Higgins, in which some to-be-smashed eggs are cooked, while the others are raw.
"I want to change the rules!" Klum announced. "I want to crack my egg on your head. Can you crack your egg on mine?" she asked, rolling her R's effectively. 
Klum does have a flair for the dramatic. See which one of them got goo'd in the video above.