NBC Insider Exclusive
Create a free profile to get unlimited access to exclusive show news, updates, and more!
Sign Up For Free to View
Gwen Stefani Says She Used to Think Blake Shelton's Accent Was 'So Fake'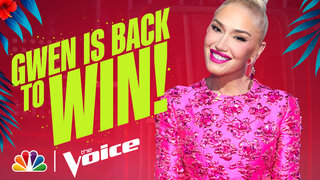 During some downtime in between Blind Auditions on The Voice Season 22, Episode 3 (which aired September 26th), Gwen Stefani made a surprising confession: She used to think husband Blake Shelton was only pretending to have a Southern accent. 
"Has his accent rubbed off on you?" Camila Cabello innocently asked Stefani while they were in their chairs. 
That's when the "Hollaback Girl" made the revelation about her husband, who hails from Oklahoma. "I used to be like, 'When are you gonna stop talking like that? That's so fake!'" she said. "And then it was, like, his real voice. I kinda got used to it." 
Stefani then did a playful mimicking of Shelton's voice, saying things like, "I don't wanna get up!" and "Let's go over there!" The audience and Coaches, unsurprisingly, were giggling the whole time. 
"I feel like it's gonna rub off on me a little bit," Cabello said in between laughing. "I'm kinda scared." 
Indeed, Blake Shelton is a country man through and through. In fact, his love of country music has been a defining part of his Coach career on The Voice. He owns that genre and, because of that, often hooks Artists who want to work exclusively in country music. 
Shelton's won eight seasons of The Voice thus far. Will he take home another trophy, or does he actually have a reason to be afraid of newbie Coach Cabello? She probably won't adopt a Southern accent anytime soon, but she's been killing it as a Coach and stands a real chance at winning.
To see it all unfold, watch The Voice on NBC Mondays and Tuesdays at 8/7c and next day on Peacock.