NBC Insider Exclusive
Create a free profile to get unlimited access to exclusive show news, updates, and more!
Sign Up For Free to View
Gwen Stefani Crashed Blake Shelton's Voice Promo Shoot for a Great Reason
She just had to talk to her husband!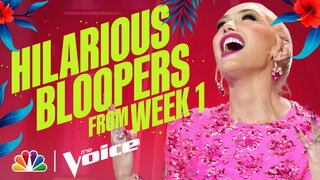 Season 22 of The Voice has blessed us with some adorable moments between married Coaches Gwen Stefani and Blake Shelton. However, what we see on the episodes is only a fraction of what happens between the two backstage! Luckily, the show just gave us an inside look at Shelton and Stefani's interactions when they're not in their big red chairs.
In a new blooper real, we see Shelton and fellow Coach Camila Cabello filming a sketch by their dressing rooms that gets interrupted (accidentally) by Stefani. "Blake!" you hear Stefani shout offscreen, trying to capture the country star's attention (unaware that he was filming a sketch). Once she realized this, the couple bursted into laughter. "Hey! I'm trying to talk to my husband here, guys!" Stefani said to the cameras with sass. That's as good a reason as any!
Later in the blooper reel, we see Cabello cheekily remark at the fact she's seated in between Stefani and Shelton on the show's set. "I'm in a married couple sandwich!" Cabello exclaimed. 
In another cute moment, the Coaches teased the way Shelton pronounces his wife's first name. With his smooth Southern twang, it comes out as "Gween."
"I like Gween," Cabello said with a confident nod.
To see Blake Shelton and "Gween" Stefani battle it out for the best singer on their team, be sure to watch The Voice this season. It airs on NBC Mondays and Tuesdays at 8/7c and next day on Peacock. The fun is just getting started.