NBC Insider Exclusive
Create a free profile to get unlimited access to exclusive show news, updates, and more!
Sign Up For Free to View
Gwen Stefani Shared Rare Throwback Pics of Her Kids with Blake on The Voice Set
We caught an inside glimpse of their family life!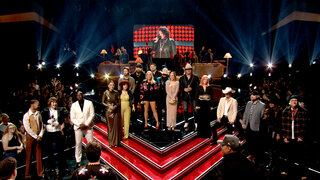 On May 23, Gwen Stefani celebrated Blake Shelton's last day on The Voice by sharing some rare throwback photos of her, Shelton, and her three children behind the scenes on the show. 
On Stefani's Instagram story, we first caught a glimpse of Shelton and Stefani goofing around with Stefani's sons Zuma and Kingston. The four sat at a table while Stefani had her arm around the two boys as they made a silly face while leaning next to Shelton. The second adorable snapshot posted to Stefani's Instagram story showed her youngest son Apollo on Shelton's lap in the big red chair, while Shelton gave a cheeky smile and pointed at the camera. 
Shelton is clearly a dedicated stepdad to Stefani's three children, as he cited one of the major reasons he chose to step away from The Voice after 23 Seasons is to spend more time with his family. 
"I think being a stepdad has changed my perspective in that I'm not the first person that I think about anymore," he said in an interview with Access. "Even to the small little things when you go, 'I think I'll do this,' the very next thought is always,'Well, wait a minute. How's that going work?' Or, 'What will they think?' Or, 'How will that affect a schedule?'" 
"I think the only way for me to really do that right is to step away from being committed to something like The Voice that demands a lot of your time," he continued. "There's no way around it. If you're going to do it and do it right, you have to be 150 percent in. And I just feel like those days are behind me for now. I got a more important job." 
Recently, the family seems to be as tight knit as ever. This month, at Shelton's Hollywood Walk of Fame induction, the big happy family all got together to honor Shelton's major accomplishment. In a video posted to Stefani's official Instagram page, we catch a glimpse of Stefani, Shelton, Kingston, Zuma, and Apollo all standing together on the red carpet and smiling. Shelton then enthusiastically high-fived Apollo while saying "we did it!" while Stefani's song "Rare" played over the clip. 
"a huge congrats to my husband @blakeshelton ⭐️ u are my dream come true - ur so rare and i feel incredibly blessed to call u mine," Stefani gushed in the caption.