NBC Insider Exclusive
Create a free profile to get unlimited access to exclusive show news, updates, and more!
Sign Up For Free to View
Reba McEntire Will Be Recognized on NBC's Inspiring America: The Inspiration List
A well-deserved honor for the country music icon.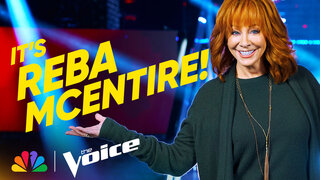 For years now, the NBCUniversal News Group has honored both everyday Americans and celebrities making profound changes for the world in its special Inspiring America: The Inspiration List. And the honorees for 2023 are some of the most selfless and loving in the franchise's history. 
This year's Inspiring America: The Inspiration List special will air on June 10 and be available for streaming next day on Peacock. More details about how to specifically tune in can be found, below, but let's start with revealing who you'll see be honored on the big night: 
What is the NBC News special Inspiring America: The Inspiration List?
Inspiring America: The Inspiration List is an annual NBCUniversal News Group special that shines light on people (both famous and everyday Americans) making positive changes in the world around them. The list of honorees always varies in terms of profession and industry. Everyone from famous actresses to NASA astronauts is eligible to be on the Inspiration List, and the 2023 list specifically showcases that. 
Who are the Inspiring America: The Inspiration List honorees for 2023?
See the full Inspiration List, below: 

Eva Longoria: "The Guiding Light" – After going back to school to get a Masters in Chicano studies, Longoria started a foundation to support STEM education and open doors for Latinas in entertainment, culture and business. Along the way, she continues to inspire others, like America Ferrera, who has joined Eva in helping Latinas find their voice.

LeBron James: "The Game Changer" — The basketball superstar is changing lives in his hometown. The school he founded in Akron, OH for at-risk youth has educated 1600 students, with each graduate receiving a college scholarship. This year, he opened a Community Center in Akron to help adults get job training and other services.

Reba McEntire and others: "The Hometown Heroes" — She may be the Queen of Country, but Reba McEntire never forgot where she grew up, near the tiny town of Atoka, OK. When Atoka found itself on the verge of economic ruin, Reba came home and worked with the town's leaders to help. (McEntire will be a Coach on The Voice for Season 24, airing fall 2023.) 

NASA's Webb Telescope Team: "The Explorers" – The world was stunned by the incredible images of space from the Webb Telescope, a machine so powerful it captures light from distant galaxies created billions of years ago. The team that designed, built and deployed it worked for more than a decade, overcoming many obstacles, to achieve one of the greatest scientific advances of our time. 

Susan Burton: "The Invincible'' – Burton overcame years of addiction and incarceration and now inspires others to do the same.  She started a non-profit called "A New Way of Life," which has helped thousands of former prisoners find shelter, jobs and perhaps most importantly, hope for a better life.

Gary Sinise and others: "The Warriors" — For decades, Sinise has worked relentlessly on behalf of military veterans. Now, some of the vets he's helped are paying it forward with their own incredible, inspirational work. 

Jane Goodall: "The Protector" — At 89 years old, Jane Goodall is still traveling the globe, spreading her message of conservation and hope to a whole new generation. 

El Paso Helping Hands: "The Providers" — This year, thousands of migrants in search of a better life headed for the US, creating a humanitarian crisis along our southern border. Many in El Paso, TX met the challenge with open hearts and helping hands.  

Mackenzie Scott: "The Giver" — The woman behind Amazon's creation is now making her mark as one of the world's leading philanthropists. 

Yo-Yo Ma: "The Uniter" — World-renowned cellist Yo-Yo Ma believes beautiful music can unite us and travels the globe to spread that message.   
NBC Nightly News' Lester Holt, plus TODAY's Savannah Guthrie and Hoda Kotb, will co-Host the 2023 Inspiring America: The Inspiration List special, and they'll be joined by NBCU journalists Craig Melvin, Gadi Schwartz, José Díaz-Balart, and Melissa Lee.
And something really exciting happening for the first time this year: Noticias Telemundo is hosting a special stand-alone Spanish-language edition of Inspiring America, Inspirando a América: Lista de Inspiradores that recognizes extraordinary individuals driving change and making a meaningful impact in the Hispanic community. The honorees are Eva Longoria, Mónica Ramírez, María Teresa Kumar, César Rangel, Chef Ivan Clemente, Claudia Serrato, Susie Jaramillo, and José Manuel Domínguez. This event airs Saturday, June 10 at 5 p.m. ET on Telemundo.
Where to watch Inspiring America: The Inspiration List 
Inspiring America: The 2023 Inspiration List will air across NBCU networks and streaming platforms beginning Saturday, June 10 and will also stream next-day on Peacock with encores available on TODAY All Day and NBC News NOW on Sunday, June 11. See specific times for tune-in, below: 
NBC – Saturday, June 10 at 8 p.m. ET/PT

MSNBC – Saturday, June 10 at 10 p.m. ET

CNBC – Sunday, June 11 at 3 p.m. ET

Telemundo – Saturday, June 10 at 5 p.m. ET

Peacock – Available to stream on-demand Sunday, June 11
 Encores available on:
·

TODAY All Day – Sunday, June 11 

·

NBC News NOW – Sunday, June 11 at 8 p.m. ET
Congrats to all of this year's nominees!