NBC Insider Exclusive
Create a free profile to get unlimited access to exclusive show news, updates, and more!
Sign Up For Free to View
Dolly Parton Sang "I Will Always Love You" to Blake Shelton on The Voice Finale
The Queen of Country tipped her hat to The Voice's very own cowboy.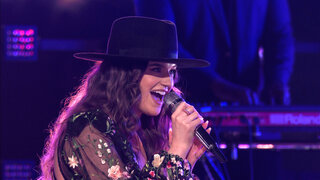 During The Voice Season 23 finale on May 23, several celebrities popped up via video to send their best to Blake Shelton, who's leaving the show after serving as a Coach for 12 years.
One of those celebrities was Dolly Parton, who's appeared on The Voice a few times herself. Her sentiments to Shelton were both sweet and sassy — but none were more effective than her singing a bit of "I Always Love You" to him. 
"Just know that I will always love you," Parton sang to Shelton before playfully adding, "You're not really retiring, are you? Just from the show? You 'ole G.O.A.T You'll do as you please, anyway!" 
Shelton was tickled by Parton's cameo appearance on the finale. That said, he was also emotional during the episode, and it's understandable why. The Voice has been a major part of Shelton's life for over a decade. There's a mourning process with something like that. 
Ultimately, Shelton decided to step away from The Voice to spend more time with family, including wife Gwen Stefani and her kids. 
He told Access in an interview. "I think being a stepdad has changed my perspective in that I'm not the first person that I think about anymore. Even to the small little things when you go, 'I think I'll do this,' the very next thought is always,'Well, wait a minute. How's that going work?' Or, 'What will they think?' Or, 'How will that affect a schedule?'" 
"I think the only way for me to really do that right is to step away from being committed to something like The Voice that demands a lot of your time," he continued. "There's no way around it. If you're going to do it and do it right, you have to be 150 percent in. And I just feel like those days are behind me for now. I got a more important job." 
While fans are certainly happy Shelton is giving himself some much-deserved time off, his absence on the show will be felt deeply. Thank you for the past 23 seasons, cowboy!