NBC Insider Exclusive
Create a free profile to get unlimited access to exclusive show news, updates, and more!
Sign Up For Free to View
Chris Meloni and Tamara Tunie Reunited for a Stunning Friendship Date Night
Tunie has been missed on the Law & Order sets!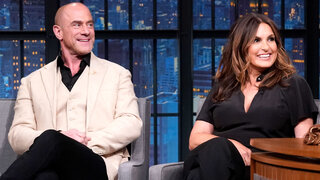 Chris Meloni reunited with an old SVU pal this summer! 
On June 6, Meloni posted a photo to Instagram of himself with former Law & Order: Special Victims Unit star Tamara Tunie at a stunning event. The gathering was to celebrate the 40th anniversary of Harlem Stage, a performing arts theater in Manhattan. In the snapshots, Meloni and Tunie stood next to each other outdoors with big smiles on their faces. 
"Celebrating 40 years of @harlemstage with the great composer Tiana León #salsa and of course @msttunie #greatniteofcreating #givinghope," he captioned the post. 
This March, Meloni, his wife (Sherman), and Tunie also got together to celebrate a good cause. They gathered at an event for the organization 1 Million Strong, a nonprofit supporting those in the music industry who are struggling with addiction. Meloni posted a selfie of the three all smiling towards the camera before sharing more clips of the audience rocking out to some tunes. 
"#Sohosessions for #1millionstrong TY @rwepartners @gwilliamson79 @msttunie @nicole.rechter Great cause Great nite" Meloni captioned the post. Multiple fans commented their excitement when they saw Tunie in the photos. 
Who is Tamara Tunie?
Tamara Tunie is an actress who played NYPD medical examiner Dr. Melinda Warner on Law & Order: Special Victims Unit from 2000-2021. In an interview with DuJour, Tunie explained how she got the part.
"Being a New York actor, you kind of do a lot of the work that's in New York. Dick Wolf had several shows in New York that he had created and executive produced," she said. "So, when they reached out to me for this role I was working and I couldn't get to the audition. So, I said to my agent, 'Come on! I've done all the shows. So, they know me.' Fortunately, the executive producer at the time, Ted Kotcheffhe, was a fan of my work and particularly my performance in The Devil's Advocate.  And they offered me the job. I didn't have to audition for it. It was supposed to be one episode, possibly recurring. And it evolved into 16 years of Dr. Warren." 
She then went on to talk about one of her favorite filming moments while on set. "One of my favorites was called 'Blast' and there was a young girl who was kidnapped," she said. "From the nosebleed in the van, I knew that she was pre-Leukemia and she needed to get to the hospital and it turned into a whole hostage situation at the bank. I got to use a gun and save the perpetrator from suicide by police by shooting him in the leg. That was a great episode."