NBC Insider Exclusive
Create a free profile to get unlimited access to exclusive show news, updates, and more!
Sign Up For Free to View
Carson Daly Just Got Candid About His Battle With Anxiety
His mission to raise mental health awareness is so inspiring.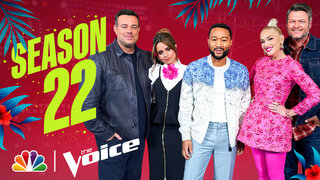 The Voice Host Carson Daly has been very open about his mental health journey. In 2018, Daly revealed in an on-air discussion that he's lived with generalized anxiety disorder (GAD) for the vast majority of his life, which he treats with cognitive behavior therapy. 
"Once you realize that other people have (GAD)–that it's an actual diagnosable thing, and there is a whole psychology and physiology behind it–you have context, and I think learning about all that, talking about it, exploring it has just ripped the veil," explained Daly, who also co-hosts Today.
Although Daly has come a long way, he also wants the public to know that tackling mental health is a lifelong practice. He recently revealed to USA Today that while he may seem calm on TV, inside, he's still learning to manage stress and panic in healthy ways. 
"On The Voice, when I'm live on Monday nights, most of the time, my right hand is in my right pocket, and I'm literally gripping onto the flesh of my thigh because I'm waiting for a high-panic moment to pass," he said. 
Daly also wants fans to know that even though his life may seem amazing, he still faces challenges just like the rest of us.
"You may know me from MTV or as a celebrity or whatever you think of me," said Daly. "You may think my life's perfect. I've got kids. I always look happy on TV or when you watch me on The Voice. But that's just not how it works. It's not like that."
The former MTV Host is so passionate about raising awareness surrounding mental health that he'll be sharing inspiring stories on the topic all summer long during a new Today segment called "Mind Matters." Today starts airing weekdays at 7 a.m. ET on NBC.