NBC Insider Exclusive
Create a free profile to get unlimited access to exclusive show news, updates, and more!
Sign Up For Free to View
How to Watch Amy Poehler and Maya Rudolph's Baking It Holiday Special
Don't forget to watch the clock!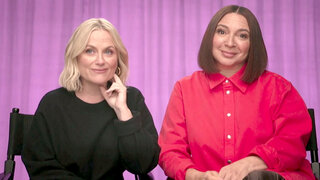 Get ready for a holiday season full of baked goods and hilarious opinions, because Season 2 of Peacock's Baking It is coming. It kicks off Monday, December 12 at 10/9c on NBC with a holiday special that introduces your new hosting duo: Amy Poehler and Maya Rudolph. The episode will also stream on Peacock, and after the premiere, all the episodes from Season 2 will stream on Peacock. 
Maya Rudolph, of course, is a returning Host, and she's joined by her SNL buddy Poehler for a delicious season. The yuletide-tastic premiere will see these Hots "invite their famous friends to 'cele-bake' the holidays in a friendly competition to raise some dough for their favorite charities."
How to Watch Baking It
The first episode of Baking It Season 2 airs Monday, December 12 at 10/9c on NBC and will stream on Peacock, along with all of Season 2.
Baking It Season 1 is currently available to stream on Peacock now. 
What is Baking It? 
Baking It is a hilarious, holiday-themed food competition show that follows a group of talented bakers competing for the "Best in Dough" title and a cash prize. Our SNL leading ladies are not the only ones deciding who wins and goes home: The judging panel is four actual, critical overbearing grandmothers with decades of experience baking wow-worthy holiday treats. 
Baking It Season 2 will up the ante for the latest group of bakers, as Poehler brings elements of the flagship Making It series to the competition. The Baking It Contestants will not only have to bake holiday-worthy confections but will also come across challenges "filled with explosions, implements of destruction, smashing cakes, and more," according to the Season 2 release. 
What can viewers expect in Baking It Season 2? 
"This season's coziest cooking competition is Baking It: Season 2," Poehler and Rudolph quipped in a statement reported by People. "This season has everything: The Grannies, crafty bakes, goofy songs about butter, cash prizes, BFFs, family, and did we mention butter? And, to make it even more exciting, we'll be hosting this season together!"
Watch the trailer, below. 
Watch Baking It's Season 2 holiday special Monday, December 12 at 10/9c on NBC and streaming on Peacock.