NBC Insider Exclusive
Create a free profile to get unlimited access to exclusive show news, updates, and more!
Sign Up For Free to View
Kylie Got Huge, Amazing News on the Latest Chicago Fire
She worked so, so hard for this.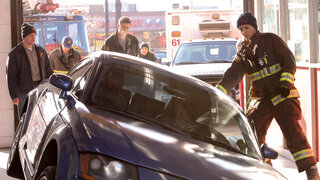 Let's face it: Kylie (played by Katelynn Shennett) keeps things running on Chicago Fire. The young 51-er does more than just admin work: She makes sure everyone at the firehouse stays in line,  whether that's by pulling folks in for meetings or assessing the budget. Remember when she got rid of junk food in the kitchen because it was too expensive? And she didn't care what the firefighters thought? Queen!
What happened to Katelynn Shennett's Kylie on Chicago Fire? 
That said, Kylie does have ambitions beyond being Firehouse 51's logistical point person. She wants to be a firefighter herself, and through Stella's (Miranda Rae Mayo) Girls on Fire program, she's received some pretty phenomenal training. 
And all her hard work's come down to one very important day, which we see unfold in Season 11, Episode 20. It's the day Kylie takes both the physical and written exams to become a firefighter. Kylie is no doubt nervous — who wouldn't be? — but with the support of both Stella and Boden (Eamonn Walker), she feels a little more secure.
She passes the physical portion of the test with no problems. It's clear the person assessing her is even pretty impressed. However, she stumbled a bit during the written exam — or so she thought. She tells Stella she froze during the test and feels she completely failed it. Kylie is so terrified about the results that she makes Stella promise not to "give up on her," not that that would ever happen. Stella loves Kylie and uses this opportunity to tell her that she makes her proud every day. Even if she gets the lowest test score in the history of the CFD, Stella is still proud of Kylie. 
In a very heartwarming moment, we learn this didn't happen. As all the girls in Stella's GoF program are running drills outside, Boden approaches them with some very exciting news: Kylie has passed not only the physical portion of the firefighter's exam but the written one, too. She's officially in the running to becoming a firefighter, and everyone is thrilled. So thrilled that Stella throws an 18+ party at Molly's that night to celebrate. As she should! 
And in Season 11, Episode 22, Kylie gets the ultimate news: Her number has been called, which means she's going to the Academy. Our girl is truly, truly going to be a firefighter.