NBC Insider Exclusive
Create a free profile to get unlimited access to exclusive show news, updates, and more!
Sign Up For Free to View
Why Simon Cowell Apologized to Kristy Sellars After Her 'Astonishing' Live Shows Act
She completely changed his mind about the art of pole-dancing.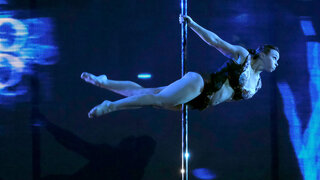 The fans have spoken, and Kristy Sellars is moving on to the America's Got Talent Finals on September 13. The Australian performer's pole-dancing Act left viewers stunned for the second time after initially wowing during the Auditions. Sellars takes the skill to a whole new level with interactive multimedia screens and acrobatic physical feats that dazzle, shock, and awe—so it's no surprise she was voted into the Finals, alongside Lebanese dancing troupe The Mayyas and AGT Save winner Celia Munoz. 
"I'm very, very impressed, because you're such a multi-versed Artist," Judge Heidi Klum told Sellars after her Live Shows performance, which you can watch in the above video. "You do it all. You come up with everything. You act, you perform, your imagination is amazing. I loved it." 
Sofía Vergara echoed this sentiment, saying, "This is so fascinating to see you do this on the stage, because the precision you have to have to make your Act work. You have to be the right time at the right place at the right moment to create your magic. I really think this was even better than the Audition."
Even Simon Cowell, who was apprehensive during Sellars' original Audition, was wowed. "I knew, Kristy, the first time we met, you were gonna be great," he said, which Vergara noted wasn't true—because during Sellars' first Audition, Cowell wasn't thrilled with the idea of pole-dancing. 
Now, however, he's singing a different tune. "Actually, I have to apologize, [and] I'll tell you why," Cowell told Sellars. "Normally, when people say they're going to pole dance, they go up a very short pole, stand there [with their legs out], stare at us, and that's it. And honestly, this was unbelievable...This is one of the most astonishingly brilliant, creative Acts we've seen on the Live Shows."
So, now that Sellars is going to the Finals, what can fans expect? She tells NBC Insider, "For the first Audition, I kept it a little slower so people could digest what I was doing because it was new. I knew that people hadn't seen what I was doing before and would need that moment to take it in. During the Live Shows, they knew I was going to be interacting with the screen, so I could afford to go a little bit faster and a little bit quicker with the interactions. [For the Finals], I would love to do something—now that people know what I'm going to do, I'm interacting with the screen—let me move you a little bit. Show a different style." 
We can't wait to see. Watch AGT on NBC Tuesdays and Wednesdays at 8/7c and next day on Peacock.