NBC Insider Exclusive
Create a free profile to get unlimited access to exclusive show news, updates, and more!
Sign Up For Free to View
Why NFL Football Is a Thanksgiving Tradition - and What Sunday Night Football Will Deliver This Turkey Day
Thanksgiving is right around the corner, and that means, among other things, football.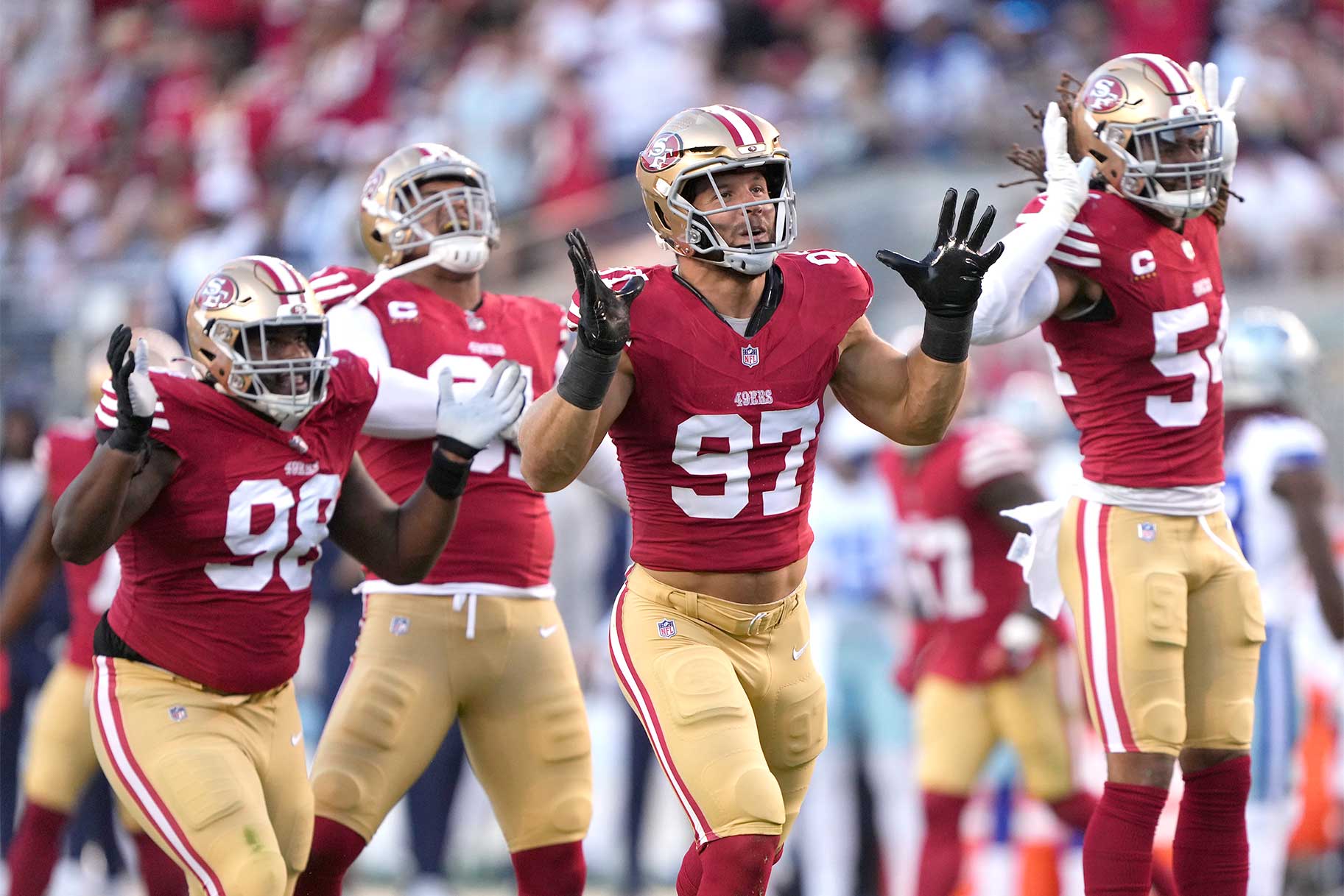 When it comes to Thanksgiving traditions, NFL football is just as important to many American households as pumpkin pie. For as long as anyone can remember, there's been a football game to watch on Turkey Day, linking the holiday with the sport forever.
But how did a holiday that always takes place on Thursday become so linked with a game traditionally played on Sundays, and how does Sunday Night Football factor into things? Let's take a closer look.
Why Thanksgiving and Football Are Linked
Playing football on Thanksgiving Day in America actually predates the formation of the National Football League, going back to the days when the sport was still for amateurs, particularly colleges in the Northeastern United States, where young men of means would toughen themselves up through competition on the gridiron. It was in that environment that the Intercollegiate Football Association started to hold their championship matches on Thanksgiving Day. In 1880, the big championship matchup was moved to New York City, and that's when it really took off. The combination of a major sporting event and a city with a thriving social scene made football into an occasion, and that occasion became a tradition that's still going today. 
RELATED: Everything to Know About the 2023 Macy's Thanksgiving Day Parade
From that point on, colleges and high schools around the country started hosting Thanksgiving games as their communities picked up football, and the connection stuck. 
"Football is the sport around which communities revolve," historian Matthew Andrews told CNN. "This holiday in which we're celebrating community, I think it makes sense that football would seamlessly fit into that culture."
How the NFL Thanksgiving Tradition Got Started
The National Football League first took shape in 1920, and despite its immense popularity now, it wasn't necessarily a massive success right at its launch. People weren't always all that concerned with professional football, particularly since they'd been watching their local college teams play for years. Of course, by then the tradition of watching those college teams on Thanksgiving Day was well-established, so the NFL decided to take advantage. 
In 1934, the Detroit Lions began hosting an annual Thanksgiving game as a way to capitalize on the link between the holiday and their sport, according to CNN. It worked. The Lions are still hosing games in Detroit every Thanksgiving, and they'll do it again during the 2023 season. 
But just a few decades later, they were no longer the only game in town on Thanksgiving. In 1966, the fledgling Dallas Cowboys started their own Thanksgiving game to try to get more eyeballs on their franchise. As the team's exposure exploded during the heyday of coach Tom Landry's success in the 1970s, so too did the popularity of their Thanksgiving matchups. The games became such a big deal that by the 2000s, the NFL agreed to add a third Thanksgiving Day game, featuring different matchups each year, to let other teams get a piece of the action.
Who Plays on Thanksgiving This Year?
As they have since 2006, the NFL will host a trio of Thanksgiving games in 2023, including one presided over by NBC's Sunday Night Football crew. 
The action begins at 12:30 p.m. ET, when the Lions host the Green Bay Packers for their annual Thanksgiving matchup. You can catch that game on FOX, then switch over to CBS at 4:30 p.m. ET for the Cowboys' annual game, this time hosting the Washington Commanders. 
RELATED: How to Watch Sunday Night Football on NBC and Peacock
Then, on Thanksgiving night, after your post-turkey nap, tune in at 8:20 p.m. ET for Sunday Night Football's presentation of a key NFC matchup: the San Francisco 49ers and the Seattle Seahawks. As of this writing, the 49ers are riding high as possibly the most dominant and impressive team in the NFC, potentially setting up another playoff run that might turn out a little more successful than last season's injury-plagued squad could muster. The Seahawks are struggling just a little bit more, but there's still a lot of talent on their team, and they're doing well enough that they're second in the NFC West behind, you guessed it, the 49ers. This is a very important divisional matchup, and could have big implications for the playoff picture toward the end of the season, so you won't want to miss it.
Sunday Night Football airs live on NBC and streams simultaneously on Peacock, so you won't miss a second of the action.