NBC Insider Exclusive
Create a free profile to get unlimited access to exclusive show news, updates, and more!
Sign Up For Free to View
What Character Did Jake Lacy Play on The Office?
Learn all about his Jim 2.0 character, Pete Miller.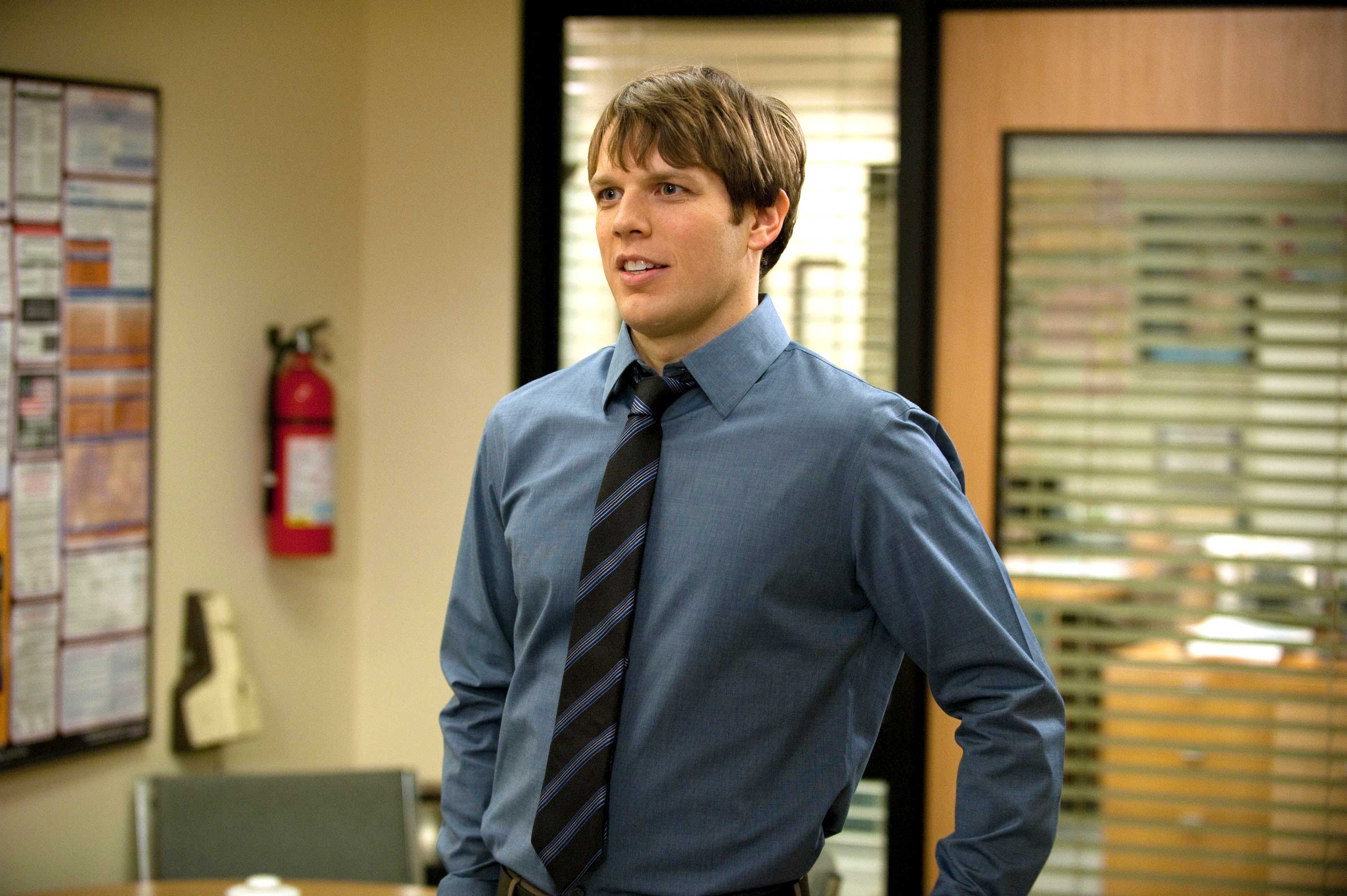 Before Jake Lacy played the role of Shane in Season 1 of White Lotus or played the boyfriend of the titular character's love interest, Therese, in  critically acclaimed film Carol (2015), he joined the NBC sitcom The Office as a customer sales rep named Pete Miller.
Revisit Lacy's early breakthrough role that led him to even more stardom and see what he's been up to lately. 
Who Did Jake Lacy Play on The Office?
Pete Miller was deemed "New Jim" by Stanley Hudson (Leslie David Baker), alongside "New Dwight" Clark (played by Clark Duke). They both joined the cast for Season 9, beginning with the premiere episode ("New Guys"). 

Pete was responsible for sparking Jim Halpert (John Krasinski)'s new career journey, because he came to Dunder Mifflin just as Jim had turned down a role doing sports marketing with his old friend. Jim overheard Pete tell Angela Martin (Angela Kinsley) about his future plans to travel and get an MBA.

In a direct-to-camera "interview," Jim joked, "If he doesn't watch himself, he's gonna be here for years, doing nothing. Wow, maybe Pete is the new Jim." 
How Long Was Jake Lacy on The Office?
Pete was a key character for the entire ninth (and final) season of The Office. He was part of the team for many memorable shenanigans, like when they rented a bus for work for the day (Episode 4, "Work Bus") and joined the men's "mo-vember" pledge to not shave his mustache all month to raise awareness for prostate cancer (Episode 7, "The Whale"). 
In Episode 8 ("The Target"), Pete started an office-wide game of making a tall tower of paper cards, using complaint cards from customers. The tower almost reached the ceiling before Kevin Malone (Brian Baumgartner) knocked it over. Pete showed off his positive leadership skills by cheering the team up after the failure. 
Pete Miller and Erin Hannon's Relationship
One major plot line in the show's final season was Erin Hannon (Ellie Kemper)'s relationship with Andy Bernard (Ed Helms) and their eventual breakup. In Season 9, Episode 6 ("The Boat"), Andy's father decided to sell the family's boat, and Erin encouraged him to sail it one final time. To her surprise, Andy ultimately made the decision to go on a three-month excursion and didn't invite her along. 
When she returned to work, Pete invited her to join him at the local bar, Poor Richards, and the two became closer. Later, in Episode 9 ("Dwight Christmas"), Pete cheered up Erin by watching Die Hard with her in the conference room. 
In Episode 12 ("Customer Loyalty"), Erin and Pete teamed up to help Nellie Betram (Catherine Tate), who noticed the romantic sparks flying between her co-workers. Erin and Pete got defensive and said that they were just friends, but the other coworkers didn't believe them. 
Andy finally returned in Episode 15 ("Couples' Discount") and Erin decided to break up with him, but then couldn't go through with it. Pete said "I just want you to be happy," and she kissed him and immediately went in and finalized her breakup with Andy. 
Who did Jake Lacy play in A Friend of the Family?
Lacy had a starring role as Robert "B" Berchtold in Peacock's 2022 miniseries, A Friend of the Family. The show is based on a true story about a friend of the Broberg family who kidnapped their daughter, Jan. Lacy's character is creepily charismatic and manipulative, and what ensues is a psychological nail-biter. 
Watch all of Lacy's The Office episodes by streaming the show on Peacock.