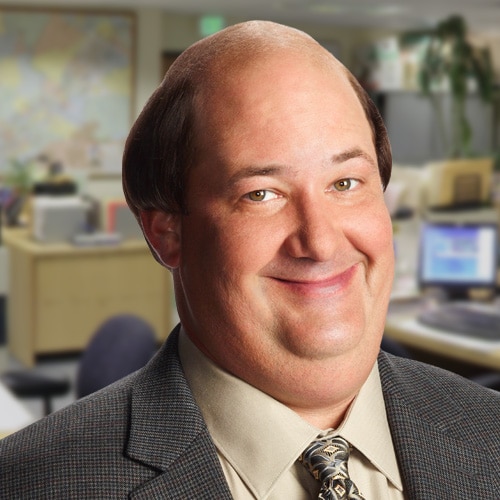 KEVIN MALONE
Played By Brian Baumgartner
Actor Bio
Brian Baumgartner portrays Dunder Mifflin accountant Kevin Malone on NBC's Emmy Award-winning series "The Office."
Baumgartner broke into the entertainment industry only three months after moving to Hollywood. Between the time he arrived in town and landed the role of "Kevin," Baumgartner appeared on "Jake in Progress," "Arrested Development" and "Everwood." His film credits include "License to Wed," "Four Christmases" and the portrayal of a conflicted priest in "Into Temptation" opposite Kristin Chenoweth and Jeremy Sisto.
Born in Atlanta, Georgia, Baumgartner moved north to serve as the artistic director of Hidden Theatre in Minneapolis, where he received multiple awards for artistic and acting excellence. In addition, Baumgartner performed regionally at the Guthrie Theater, Berkeley Repertory Theatre, Children's Theater Company and Theatre de la Jeune Lune, which were all special Tony Award recipients.
Baumgartner is the creative mind behind a hit web series about professional turtle racing, in which he also stars, currently streaming on CollegeHumor.com and is executive producing and starring in an NBC Sports special, "Training for Tahoe," which recently aired. The special includes lessons in physical, mental and emotional strength given to Brian by his iconic sports figure friends in an effort to prepare him for the American Century Classic golf tournament at Lake Tahoe.
Baumgartner currently resides in Los Angeles with his wife, daughter and three dogs, Truman, Otto and Merle.