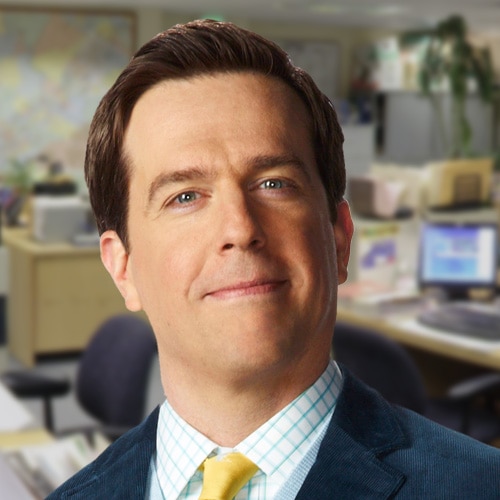 ANDY BERNARD
Played By Ed Helms
Actor Bio
Ed Helms is best known for his scene-stealing roles on both the big and small screen.
He will next be seen starring in the Duplass brothers' "Jeff Who Lives at Home" opposite Jason Segal and Susan Sarandon. Helms will also lend his voice alongside Danny DeVito, Zac Efron and Taylor Swift to Universal's 3-D animated film "The Lorax," based on the famous Dr. Seuss children's book about preserving the environment.
Most recently, Helms starred opposite Bradley Cooper and Zach Galifianakis in "The Hangover Part II" the sequel to Todd Phillips' critical and commercial success "The Hangover," which drew a worldwide gross of over $467 million and won the 2010 Golden Globe for Best Motion Picture Comedy or Musical.
Currently, Helms stars in the scene-stealing role of Andy Bernard in the 8th season of NBC's hit comedy "The Office." His other television credits include a four-year stint as a Senior Correspondent and writer on the Emmy Award-winning "The Daily Show with Jon Stewart," Comedy Central's "Premium Blend" and "Arrested Development."
His previous film credits include Miguel Arteta's "Cedar Rapids," Shawn Levy's "Night at the Museum: Battle of the Smithsonian," "The Goods," "Semi-Pro," " Knocked Up," "Meet Dave," "Harold & Kumar Escape from Guantanamo Bay," "Walk Hard" and "Evan Almighty."
Born and raised in Atlanta, Georgia, Helms headed to New York City to pursue comedy shortly after attending Oberlin College in Ohio. He now resides in Los Angeles and plays a mean banjo.