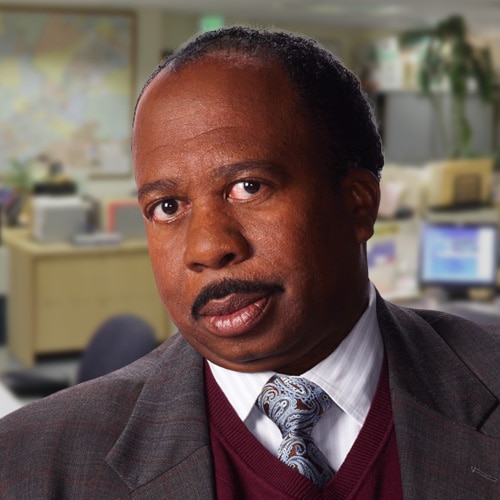 STANLEY HUDSON
Played By Leslie David Baker
Actor Bio
Leslie David Baker portrays Dunder Mifflin Paper salesman Stanley Hudson on NBC's "The Office."
Baker's television credits include recurring roles in "Malcolm in the Middle" and "The Guardian," and has guest starred in "Scrubs," "That 70's Show," "Judging Amy," "Just Shoot Me," "Elizabethtown," and "Road to Redemption." In addition, Baker has appeared in numerous national commercials, feature films and stage productions.
Before Baker got his big break in Hollywood, he worked in various Chicago City departments such as the Department of Health (AIDS Program and Policy), Office of Cable and Communications and the Board of Education. Baker also served as a consultant for the U.S. Department of Health and Centers for Disease Control, Academy of Educational Development, American Red Cross, and the Illinois State Attorney's Office Health Task Force.
Baker was born in Chicago, Illinois and holds a B.S. in Psychology from Loyola University Chicago and a M.S. in Human Services Administration from Spertus College of Judaica Chicago.
Baker currently lives in Los Angeles. His birthday is February 19.