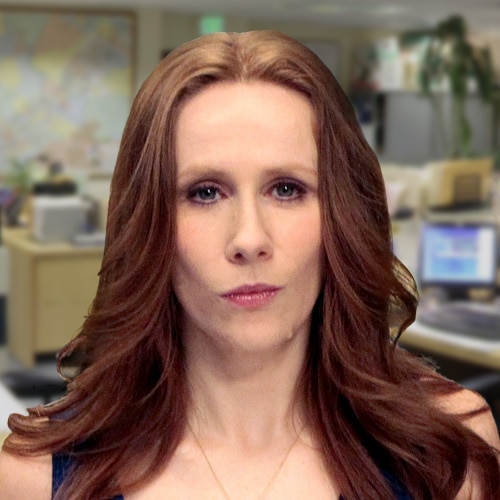 NELLIE BERTRAM
Played By Catherine Tate
Actor Bio
Catherine Tate currently stars as Nellie Bertram in NBC's hit comedy "The Office."
Tate's key television roles include starring in her own multi-award winning series "The Catherine Tate Show," the drama "The Bad Mother's Handbook," the sitcom "Wild West," (alongside Dawn French) and the cult sketch show "Big Train." A guest-starring role as Donna Noble in the 2006 "Doctor Who Christmas Special: The Runaway Bride," led to Tate joining as the fulltime Doctor's Companion for the hugely acclaimed fourth season. Tate won the Best Actress award at the UK TV Choice Awards and a nomination for Outstanding Dramatic Performance at the 2008 National Television Awards for the role. She has displayed her multi-talented skills to effect by also writing, directing and co-starring in her own short film "My First Nativity."
Tate's feature film credits include "Gulliver's Travels," "Mrs. Ratcliff's Revolution," "Monte Carlo," "66," "Starter for 10" and "Scenes of a Sexual Nature."
Tate has an extensive body of theatre credits, including starring in the West End production of "Much Ado About Nothing." The show was the fastest-selling play in West End history and winner of What's on Stage Award. Other theatre credits include "Seasons' Greetings" at the National Theatre, David Eldridge's play "Under the Blue Sky," and Neil Labute's "Some Girls" with David Schwimmer. Tate has also portrayed Sunny Jacobs in Bob Balaban's stunning production of "The Exonerated," and costarred in the RSC's "A Servant to Two Masters."
"The Catherine Tate Show" won Best Comedy Programme at the 2007 National Television Awards, Best Entertainment Programme at the 2006 Royal Television Society Awards and the Best Comedy Award at the 2004 Banff Film and Television Awards. Further nominations include the 2007 BAFTA for Best Comedy Programme and the 2006 Rose d'Or for Best Comedy.
Tate won the Best Comedy Performance award at the 2006 RTS Awards, Best Actress at the 2006 British Comedy Awards and was nominated for Best Comedy Performance at the 2006 BAFTAS.
In 2005, Tate won the Best Television Newcomer Award at the British Comedy Awards and at the RTS Awards - as well as the Variety Club Comedy Award and the Originality Award at the Women in Film & Television Awards. 2005 also saw Catherine nominated for an International Emmy for Best Performance by an Actress as well as for Best Actress and Best TV Comedy at the British Comedy Awards.
Tate is currently working on a number of script projects.