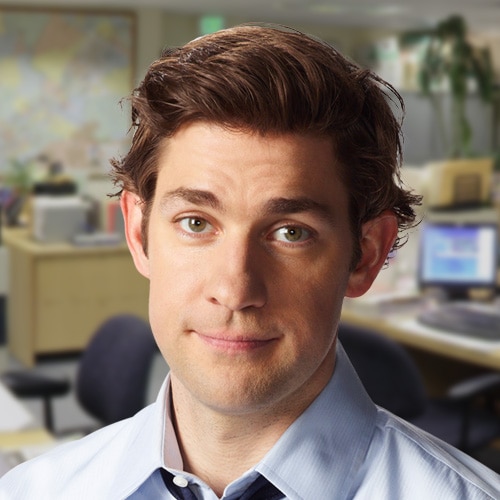 JIM HALPERT
Played By John Krasinski
Actor Bio
John Krasinski portrays sales rep Jim Halpert on NBC's hit comedy "The Office."
Krasinski recently starred opposite Maya Rudolph in the comedy "Away We Go," directed by Sam Mendes. Krasinski will next be seen starring alongside Meryl Streep, Alec Baldwin and Steve Martin in "It's Complicated," which releases on December 25th.
Also a gifted writer, Krasinski adapted the David Foster Wallace book "Brief Interviews with Hideous Men" and directed his adaptation in an independently financed feature last fall. The film was recently acquired by IFC and will be released through IFC in theaters on September 25th. The film stars Julianne Nicholson as a graduate student who is coping with a recent breakup by conducting probing and revealing interviews with various men. The illustrious cast also includes Will Arnett, Dominic Cooper, Bobby Cannavale, Timothy Hutton, Josh Charles, Dominic Cooper, Timothy Hutton, Christopher Meloni, Max Minghella, Lou Taylor Pucci and Ben Shenkman among others.
Krasinski's feature film credits include George Clooney's "Leatherheads," "Monsters vs. Aliens," "Shrek the Third," Ken Kwapis' "License to Wed," Gregg Araki's "Smiley Face," Christopher Guest's "For Your Consideration," Nancy Meyers' "The Holiday," Bill Condon's "Dreamgirls" and "Kinsey," Sam Mendes' "Jarhead" starring Jake Gyllenhaal, "Duane Hopwood" and the animated film "Doogal," in which Krasinski voiced three characters.
Among Krasinski's additional television credits are appearances on NBC's "Law & Order: Criminal Intent," "Ed," and "Without a Trace."
Krasinski graduated from Brown University as an honors playwright and later studied at the National Theater Institute. Born and raised in Newton, Mass., Krasinski currently resides in Los Angeles.