NBC Insider Exclusive
Create a free profile to get unlimited access to exclusive show news, updates, and more!
Sign Up For Free to View
Wendy Moten Beautifully Honored Ray Charles at the Grand Ole Opry
The Voice alum sounded as gorgeous as ever while covering a powerful tune.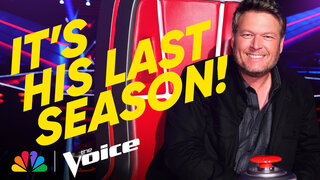 The Voice Season 21 Artist Wendy Moten recently performed at the legendary Grand Ole Opry venue. The singer honored Ray Charles by doing a rendition of his version of the classic tune "America the Beautiful," and what you'll hear is, well, beautiful.
In the clip posted to her official Instagram page, we catch a glimpse of Moten rehearsing the song with her band, sounding heavenly without a microphone. "God done shed his grace on thee," she crooned with passion.
Then, the video transforms her into performing the song onstage with a grand setup, powerful vocals, and some amazing backup singers. "And crowned thy good in brotherhood, from sea to shining sea" she riffed whole-heartedly.
This hasn't been the only time Moten has done late iconic singers justice with her amazing voice while performing in Nashville, Tennessee. She also covered "Ain't No Way" by Aretha Franklin during a The Voice watch party on November 28, 2022. A few weeks earlier, she honored her Team Blake country roots, taking to the City Winery stage in Nashville to perform a cover of the ballad "Before I'm Over You" by Loretta Lynn.
Wendy Moten came in as a runner-up in Season 21 of The Voice. She sang a rendition of "We Can Work It Out" by The Beatles during her Blind Audition, and earned a rare Four-Chair turn around and a standing ovation from the Coaches.
"You are what this show is all about—a voice that is so powerful, that is so transcendent, that you kind of move people to, like, another level," Coach Kelly Clarkson said in awe after Moten's amazing Audition. "I forgot that I hadn't even pressed my button; I was just enjoying myself. It's your show, it was beautifully done."
Moten ended up choosing Team Blake and is still remembered fondly by him today. "When I think of one Blind Audition that I was just shocked and amazed, and I still can't, haven't gotten over it, it would have to be Wendy Moten," Shelton said of Moten during an interview with NBC Insider in October 2022. "It's still one of the best singers—maybe the best singer that I've ever just sat and listened to in a room. It's just unbelievable." 
Moten has also talked to NBC Insider about her choice to appear on The Voice after making a name for herself in the music industry. "I've worked with some of the greatest Artists in history; they were great storytellers, and I just wanted to reach people through song," she said.
Watch The Voice on NBC Mondays at 8/7c and Tuesdays at 9/8c and next day on Peacock.