NBC Insider Exclusive
Create a free profile to get unlimited access to exclusive show news, updates, and more!
Sign Up For Free to View
9 Camila Cabello Songs You Should Totally Add to Your Summer Playlists
The Season 22 Voice Coach has some serious bops.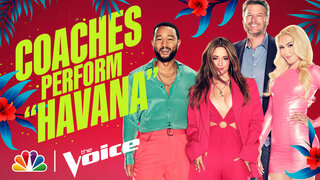 Camila Cabello joined Blake Shelton, Gwen Stefani, and John Legend as Coaches on The Voice Season 22 — and it was a gig Cabello was more than ready for.
Exhibit A: The fact that she served as an Advisor to Team Legend in Season 21. Exhibit B: She'd actually auditioned for The Voice prior to going on The X Factor.
RELATED: 6 Things to Know About The Voice Coach Alum Camila Cabello
And Exhibit C? That Cabello has a proven history of delivering hit after hit, a skill the Voice Contestants on her team no doubt wanted to have. So, let's look back at some of those bops that've made her a star.
We highly recommend adding these to your various summer playlists — especially the deep cuts you haven't heard! 
"Into It" 
This electro-pop banger is equal parts fun and sultry—and will turn any room you're in into a nightclub.  
"Bad Kind of Butterflies" 
This moody mid-tempo track off Cabello's second studio album, Romance, has a hook that will lodge itself into your brain and never leave. Fair warning! 
RELATED: Camila Cabello Expertly Replied to Blake Roasting Her About Her Music Knowledge
"She Loves Control" 
EDM DJ extraordinaire Skrillex produced "She Loves Control," off Cabello's debut self-titled album, and it shows. This uninhibited stomper doesn't skimp on tempo or dizzying production, and the result will have you feeling euphoric. 
"Cry for Me" 
Cabello's out-of-this-world voice is front and center on this earworm jam that sees her demanding an ex to, well, cry for her. 
RELATED: Camila Cabello Reveals the 'Big Reason' She Auditioned for The X Factor
"Shameless" 
The dark, gritty dance breakdown on "Shameless" will have you losing all abandon—and grooving until the sun comes up. 
"Love Incredible" (with Cashmere Cat)
Prolific DJ Cashmere Cat recruited Cabello for his 2017 album, 9, and their collaboration is one for the books. Mixing glitchy hyper-pop production and soulful vocals from Cabello, this song definitely makes an impression. 
RELATED: Blake Shelton Reveals the Voice Coach Trait Both Camila Cabello and Kelly Clarkson Have
"Never Be the Same" 
One of the biggest hits off Cabello's first album (but not the biggest—more on that later), "Never Be the Same" is a ballad you can't help but scream the lyrics to. 
"My Oh My"
If you're looking for a sexy jam to put on as you're getting ready for a night out, you've come to the right place. 
RELATED: A Complete Timeline of Camila Cabello's Career
"Havana" 
Last (but absolutely not least), we have "Havana," the mammoth single off Cabello's first album that was so ubiquitous, so chart-topping, and so fantastic, you don't even need to hear it to remember how it goes. (But go ahead and listen because, well, it's fabulous.) 
You can watch Cabello's season of The Voice on Peacock. 
This story was originally published on June 30, 2022. It was updated June 15, 2023.