NBC Insider Exclusive
Create a free profile to get unlimited access to exclusive show news, updates, and more!
Sign Up For Free to View
Camila Cabello Advised Artists on Her Own Song During The Voice Season 21 Battles
She's now going to be a Coach in Season 22!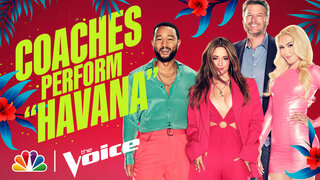 The Voice is switching up its Coaches lineup for Season 22. Blake Shelton and John Legend are returning, and joining them are past Voice Coach Gwen Stefani and Camila Cabello, who will be making her coaching debut. 
But this isn't the first time Cabello has appeared on The Voice. The "Don't Go Yet" singer was tapped by Legend to be an Advisor for the Battle Rounds in Season 21. 
"that's riiiiiight #TeamLegend !! thank you @johnlegend for letting me work with your insanely talented team and advise for this season's battle rounds!! #TheVoice," Cabello tweeted in August 2021 after the news was announced. 
In the video below, you get a closer look at Cabello's time as a Season 21 Advisor. "You know I started on a singing competition show," Cabello told Legend when she made her entrance last season, referring to her time on The X-Factor in 2012. (She was placed in a girl group called Fifth Harmony that went on to achieve massive success.) 
"I would not be where I am today if I hadn't auditioned for a show like this," Cabello said. "It genuinely gives people an opportunity, which I think is so amazing and so beautiful." 
Her time advising KJ Jennings and Samuel Harness was particularly interesting, as they performed Cabello and Shawn Mendes' "I Know What You Did Last Summer."
"I loved it," Cabello told Jennings and Harness after hearing their rendition of the track. "I thought it was really, really sick, and I think in the beginning, KJ, I think your falsetto was really beautiful. You should use it more...I love the hunger. I love that you're giving face, you're giving acting." 
And she told Harness, "Feed off of KJ's energy. Look at her more, and give it back to her. Play out the story more." 
You saw Cabello's notes take shape in Jennings and Harness' Battles performance. Watch it, below. 
From this alone, we can tell Cabello will make an excellent Coach on The Voice Season 22, which returns this fall to NBC.