NBC Insider Exclusive
Create a free profile to get unlimited access to exclusive show news, updates, and more!
Sign Up For Free to View
6 Things to Know About The Voice Coach Alum Camila Cabello
The pop icon actually got her start on a singing competition.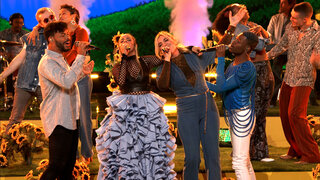 The Voice Season 22 ran from September to December 2022 and featured veteran Coaches Blake Shelton, John Legend, and Gwen Stefani alongside first-time Coach Camila Cabello. 
She was more than qualified for the gig. Cabello is a music industry pro with years of experience — and hits — under her belt. If you're not too familiar with the pop icon, here are some quick things to know: 
Who is Camila Cabello? She got her start in a singing competition. 
We first met Camila Cabello in 2012 as a Contestant on The X Factor. She was paired with four other girls to create the group Fifth Harmony, and they were, hands down, the breakout Act of the season.
But also: Let's not forget about Fifth Harmony's success. 
The group became a worldwide sensation. Cabello recorded two albums with the group, which included the hit songs "Worth It" and "Work From Home." That was a lot to navigate at such a young age, and she was able to share what she learned with her team on The Voice in Season 22. 
She knows how to make a hit song. 
After Fifth Harmony, Cabello launched her own solo career where she gained more autonomy over her songs and artistry. Her debut album, Camila, dropped in January 2018, and it included the blockbuster smash "Havana" (which she's credited on as a songwriter). That album also spawned the Cabello co-penned track "Never Be the Same," which reached number six on Billboard's Hot 100 album chart. 
Cabello kept rising from there — on her own terms. Up next was her 2019 album Romance, which included "Señorita," another song she co-wrote — and another song that stampeded the charts. Her third album, Familia, dropped in April 2022.
She appeared on The Voice before becoming a Coach. 
Specifically: as an Advisor to Team Legend, where she offered her expertise to the Artists. She was particularly effective with KJ Jennings and Samuel Harness, who performed Cabello and Shawn Mendes' "I Know What You Did Last Summer."
"I loved it," Cabello told Jennings and Harness after hearing their version of the song. "I thought it was really, really sick, and I think in the beginning, KJ, I think your falsetto was really beautiful. You should use it more...I love the hunger. I love that you're giving face, you're giving acting." 
And she told Harness, "Feed off of KJ's energy. Look at her more, and give it back to her. Play out the story more." 
Watch the video, below, to see Cabello's notes in action: 
She knows what's most important at the end of the day. 
The entertainment industry can be bananas, but Cabello stays grounded by focusing on her mental health and wellbeing. 
In fact, Cabello even told Today she went into recording her third album wanting better mental health. "Now I'm 25," she said. "I think it's such a journey in finding out who you are as a person...through doing the inner work, whether it be therapy or really practicing authenticity and practicing vulnerability, you find who you are. And now I'm in a place where I'm like, 'I know who I am, and I like who I am,' and so I just practice being who I am." 
Fun fact: She needs to eat a banana with every one of her meals!
"I actually eat a banana with every single meal," she told Vogue during her "73 Questions" video. "It doesn't matter what it is," she shared. "It doesn't matter if it's pasta, a sandwich, rice and beans, scrambled eggs, pancakes, pizza. I eat bananas with everything."