NBC Insider Exclusive
Create a free profile to get unlimited access to exclusive show news, updates, and more!
Sign Up For Free to View
Gwen Stefani and Blake Shelton's Greatest Moments on The Voice This Season
They were just the sweetest all season.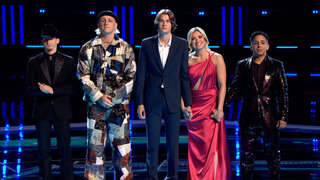 Blake Shelton and Gwen Stefani's dynamic was one of the best parts of The Voice Season 22. This season marked the first time the two appeared as Coaches while also married, and it was clear from the jump how obsessed they are with each other. 
"Stepping back on the set of The Voice this time was very surreal," Stefani told NBC Insider. "Being married, it brought back so many memories of all the different seasons that we've been on The Voice together, all the different phases of our friendship, of our relationship."
Below, we look back at some of their best moments from The Voice this season: 
Gwen pressed her button to troll Blake.
During the Season 22 Blind Auditions, it seemed like Stefani and Shelton were pursuing a lot of the same talent. Stefani later admitted to Entertainment Tonight that she would sometimes turn her chair just because Shelton did. 
"I was definitely pressing when Blake would press, 'cause I like to mess with him, but I also like to follow his taste," she said.
Blake called Gwen his "Wifey."
Cue the "awwws." 
Blake gushed about his favorite part about working with Gwen.
"The best part about working with my wife is that I never have to be apart from her," Shelton told NBC Insider. And now I'm crying. 
Gwen sat on Blake's lap. 
How could we forget the time Stefani looked iconic, perched on top of Shelton's lap during the December 5 Live Show? The adorable photo features Shelton grinning like a kid in a candy store while Stefani rocks a head-turning floral jumpsuit. 
Gwen threw some playful shade.
Based on the Season 22 Finale, we now know that Bryce Leatherwood was crowned the winner, taking home the ninth win for Team Blake. However, earlier in the process, Stefani joked about her doubts that Shelton could pull off another win. 
"I didn't think that Blake, when this whole thing started, had a chance in the race," Stefani told Access Hollywood."It's true! You were losing. You were a loser, but now you have so many good people on your team." 
Stefani was clearly kidding, but we enjoyed their sassy convo nonetheless!
Gwen secretly hoped Blake would win.
During an interview with People, Stefani revealed she was rooting for Shelton to win Seasons 22 and 23 of The Voice, as the latter will be Shelton's last season on the coaching panel. 
 "It works out really good for me if you win, as well, because then I could be married to the guy that won 10 times," Stefani said to People after Shelton revealed, "I feel a little pressure [to win]. Nobody wants to finish with eight wins. Ten sounds a lot better. Double digits."
Gwen teased Blake after his phone went off.
After Cara Brindisi's Blind Audition, Shelton and Stefani tried to convince the singer to join their respective teams. Unfortunately for Shelton, his phone alarm accidentally went off, and Stefani took the opportunity to tease her husband again. 
"Blake has to take his medication," she joked. Shelton confirmed, "[Stefani's] actually not kidding. She set that alarm for me on my phone." Awww, too cute!
Gwen rocked a gold necklace with Blake's name on it.
Stefani's 'fits this season have been giving high-octane glam like no other! During the 2022 Knockouts episodes, Stefani upped the ante by donning a chunky gold statement necklace featuring "Stefani" inscribed on the top layer and "Shelton" on the bottom. 
The Voice Season 23 premieres in March 2023. Watch The Voice NBC and Peacock.