NBC Insider Exclusive
Create a free profile to get unlimited access to exclusive show news, updates, and more!
Sign Up For Free to View
See the Adorable Way Sterling K. Brown's Son Followed in His Performer Footsteps
He's got the confidence down already!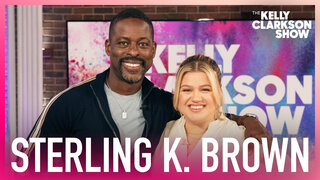 On June 13, This Is Us star Sterling K. Brown (Randall Pearson) took to his official Instagram page to share an adorable video of his younger son, Amaré, dancing while playing with a hula hoop at his school playground. In the cute clip, Brown encourages the 6-year-old, who manages to keep the hula hoop up while waving his hands around eagerly. 
"How did you get so good at this?!" Brown cheered enthusiastically. 
"Last day of school for my main man, Amare, and I JUST discovered he has a new skill! #Shocked #NoIdea #SlimmestHipsInTheWholeHouse #MyBabyBoy," Brown captioned the post.
Brown's former This Is Us co-star and on-screen wife, Susan Kelechi Watson (Beth Pearson), commented in support, "And as you and I know that ain't easy to do lol 🔥." 
In August 2022, Brown made another sentimental post about how quickly his two sons, Andrew and Amaré, are growing up. Brown made the post to celebrate the bittersweet occasion of Andrew entering the sixth grade, and Amaré entering the first grade, as the papa was proud of their major milestones. 
"When I was a kid, my mom would frequently say '18 years goes by real fast,'" he wrote. "I think she knew that once I graduated, life would take me someplace other than home. And there was joy for what the future would hold, but also a bitter sweetness in knowing that our time under the same roof would be limited. Today, is the beginning of 6th grade and 1st grade. And I know exactly what my mom meant! #TimeFliesWhenYoureSurroundedByLove❤️."
Brown also posted a sweet holiday family photo to his official Instagram page in December 2022. 
"From our family to yours…Merry Christmas, Peeps! May your day be filled with laughter, love, and light! Namaste 🕉 #merrychristmas🎄 #happyhanukkah #happykwanzaa and anything else I may have forgotten! ✌🏿" Brown wrote. 
"Fatherhood is everything to me, man," Brown told Salon. "The best role I had is the day my first son was born, and I got to call myself a father for the first time. I only had a dad for a limited amount of time—10 years—and to step into his shoes and pass on the love I had to my son is everything. I enjoy paternalist roles because I enjoyed the dad I had and who is still with me in my heart."