NBC Insider Exclusive
Create a free profile to get unlimited access to exclusive show news, updates, and more!
Sign Up For Free to View
Sterling K. Brown's First Interaction With Meryl Streep Is So Relatable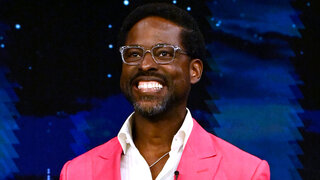 As one of the stars of This Is Us, Sterling K. Brown is used to fans geeking out when they meet him. He vows to always be gracious during these moments—and that's partly because he's been starstruck himself. When asked recently on The Tonight Show Starring Jimmy Fallon if he's ever fan-girled over seeing a celebrity, Brown had just one word to say: "Streep."
"I've been in the presence of Streep three times," Brown said. "She don't need a first name. You know who I'm talking about. Jimmy, I've been in Streep's presence three times. One time, I was working at the Public [Theater], and she was doing something else at the Public. She was just talking to people, and I was just standing there, like, [grinning], 'It's Steep, y'all.' And she was just talking, being regular 'ole Streep. And I'm like, 'No, I can't. I don't know.' I couldn't talk. I just lurked. I was weird. I was a creeper. So, I'm looking forward to somebody who knows both of us to hopefully give me an introduction."
We also can't wait for Sterling K. Brown and Meryl Streep to meet. Maybe it will lead to the two actors working together! Now that would be iconic. 
Until then, you can watch This Is Us on Peacock and on NBC and also Brown's new film, Honk For Jesus. Save Your Soul, September 2 on Peacock. The film, per Peacock, is "a satirical comedy starring Regina Hall as Trinitie Childs, the proud first lady of a Southern Baptist megachurch, who together with her husband, Pastor Lee-Curtis Childs (Sterling K. Brown), once served a congregation in the tens of thousands. But after a scandal forces their church to temporarily close, Trinitie and Lee-Curtis must reopen their church and rebuild their congregation to make the biggest comeback that commodified religion has ever seen."