NBC Insider Exclusive
Create a free profile to get unlimited access to exclusive show news, updates, and more!
Sign Up For Free to View
Simon Cowell's Sweetest Quotes About His Son, Eric
The America's Got Talent Judge is the greatest father!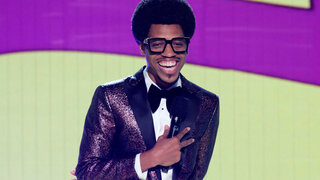 Simon Cowell loves being a family man — so much, in fact, that he says his 8-year-old son, Eric, helped change his perspective on life for the better in a multitude of ways. Here are just some of the sweet things the America's Got Talent Judge has to say about his son.
How Simon Cowell's son, Eric, taught him balance
Cowell told The Sun in October 2022 that he was previously a workaholic but his son helped him figure out what's truly important in life.
RELATED: Simon Cowell Just Shared Some Rare Pics With His Mini-Me Son, Eric
"If Eric hadn't come along, God knows what would have happened," he told the outlet. "I was really unhappy. But now Eric is around, I don't work through the night anymore."
Simon Cowell says he's a "different man" after having Eric
"I'm a very different man to the one I was 10 years ago," he added.  "Eric changed everything, to be honest. After I lost my mum and my dad, you kind of think you're never going to feel that love again — that's it."
RELATED: Everything to Know About AGT Judge Simon Cowell
"Then you have kids, and —t hough I never thought I would feel that way — it's beyond your love for your parents. It almost hurts how much you love them," he added. "Then you start thinking, 'When he grows up, what's his dad going to have done?' I think about that a lot." 
How Simon Cowell's son Eric helped him propose
Cowell has also said that his son, Eric, helped motivate him to propose to his fiancée, Lauren Silverman. "One hundred percent he had to coach me, and we planned it. He was a big part of it," he told Entertainment Tonight. "Family is everything." 
What has Simon Cowell said about giving his son, Eric, another sibling?
In an interview with The Sun in April, Cowell said he has given some thought to having another child.

"Just two days ago I was thinking, 'It would be nice to have another,'" he told the outlet. "Those years when they're young — I had such an amazing experience all through those years, and I was thinking about it probably because of that."

"Being a dad is the best thing that's ever happened to me. I love every second I spend with him," he added of Eric. "But you never know with kids if they're happy being on their own or how would he feel if there was another one."

"So look, will it happen? I don't know," he finished.​​ "​But I would love another kid. I really like being a dad."
Simon Cowell on the impact of AGT
Currently, Cowell is a Judge on America's Got Talent Season 18. "From where we've started to where we are now, the quality of the Acts is, at times, honestly breathtaking, and just to see how they've progressed," he told People. "I think they're very inspirational, and I think everyone needs that right now."
RELATED: Simon Cowell's 16 Most Memorable Got Talent Auditions — and They May Surprise You
"We've met the most incredible people along the way and that's a big reason of why I love doing this show," he added. "That is what keeps me on the show. I love that part of it. I love that first Audition when you see someone's true talent and you go, 'Yeah, this is a moment'" about the show.
This story was originally published on January 30, 2023. It was updated on July 26, 2023.