NBC Insider Exclusive
Create a free profile to get unlimited access to exclusive show news, updates, and more!
Sign Up For Free to View
Simon Cowell's 16 Most Memorable Got Talent Auditions — and They May Surprise You
Breathtaking dancing, farting Japanese entertainers, and more made the list of America's Got Talent auditions Simon Cowell won't forget.
During his lengthy tenure on America's Got Talent, Judge Simon Cowell has seen a lot of auditions, but some just rise to the top. 
Cowell shared his 16 "most memorable" auditions from America's Got Talent and Britain's Got Talent on the most recent episode of Season 18, covering everything from the emotional to the hysterical. 
"It is sometimes talent, sometimes it's the audience, sometimes it's just the surprise, but, you know, I've got to admit, I love all that," Cowell said of what makes his picks stand out from the pack. "I think it's what makes the show." 
Cowell was tasked with picking out his top 15  "water cooler moments," as he called them, but the veteran Judge could only narrow his list of acts down to 16 unforgettable acts. 
RELATED: Simon Cowell Has Only the Nicest Comments About Kelly Clarkson: A Look at Their Friendship
"I do think actually just about every one of these auditions we're going to watch tonight, they were all water cooler moments for different reasons," he told Host Terry Crews, who walked him through what made each moment special.
So just which acts made the cut? Here's the list of Cowell's most memorable moments in the talent competition.
Ichikawa, Britain's Got Talent Series 16
Britain's Got Talent fans may remember Ichikawa came to the talent competition earlier this year to fart around, quite literally. 
"It's one of the weirdest, funniest auditions I have ever seen," Cowell explained. "It's hysterical." 
It was hard to tell just where the audition was going when the Japanese entertainer walked onto the stage, pulled down his suspenders, and slipped out of his pants, revealing another set of specially modified pants. But when he laid on his back, thrust his feet into the air and placed a party horn up to his butt, it was pretty clear where this one was going.
Cowell was quick to give Ichikawa the dreaded red X, but after demonstrating his ability to blow a party horn and blow out candles on a cake with his own farts, Cowell even got on stage to help with the Act's finale, which sent a dart sailing into a balloon. 
Cowell rescinded his "X," telling the audience, "I've  never wanted a balloon to burst so much in my life," and Ichikawa earned enough votes to make it to the next round.
"I may have said no to this Act, 11 years ago, 12 years ago,  but now I watch this show through my son Eric's eyes as well and I know Eric is going to find this really funny," Cowell said. 
Chapel Hart, America's Got Talent Season 17
This country trio had everyone cheering for the woman scorned with their sassy response to Dolly Parton's 1970s hit "Jolene." 
The group — which includes sisters Danica and Devyn Hart and their cousin Trea Swindle — performed an original song in response to the country classic titled  "You Can Have Him, Jolene," earning the ladies the first-ever AGT group Golden Buzzer with their empowered take.
"These girls, they had great determination, great personalities, I just loved them," Cowell said. 
The song took the country industry by storm, earning social media shout-outs from the late Loretta Lynn, Tanya Tucker, and even Parton herself. The group, who revealed on the show it had been hard to break into the industry as Black female country singers, just released a new album Glory Days earlier this year.
"You know they've gone on to some amazing success," Crews said of their run after the show.  "Some of the biggest country stars in the business support them." 
Tape Face, America's Got Talent Season 11
He may not have had much to say, but Tape Face still made a hysterical impression on AGT and has gone on to be one of the show's most successful acts.
AGT Judges were a bit unnerved during the audition when the unconventional performer came out onto the stage, wearing heavy black eyeliner and black duct tape over his mouth. 
"There are certain people as they walk on who I think are just annoying before they start and this guy genuinely, as soon as he walked out, I thought, 'You're annoying,' and 'I know I'm going to press the button,'" Cowell recalled.
But he quickly won the crowd — and Cowell — over when he placed oven mitts on his hands and performed a hysterical duet with oven-mitt fish lip syncing the Lionel Richie/Diana Ross classic "Endless Love." 
"It was so silly and so stupid and so brilliant at the same time," Cowell said. "This is one of those auditions I will never ever forget." 
After his run on the show, Tape Face got his own show in Las Vegas.
"Those mittens are now iconic," Crews said.
Calum Scott, Britain's Got Talent Series 9
In another shout out to Britain's Got Talent, Cowell recalled singer Calum Scott's emotionally-charged audition that blew Judges away.
Before taking the stage, Scott's sister Jade failed to make the cut in her own audition, leaving the family feeling on edge.
"He was very emotional and yet he still managed to do this unbelievable performance," Cowell said. 
Scott performed a completely transformed rendition of Robyn's "Dancing On My Own," transfixing the audience and prompting Cowell to give the singer his Golden Buzzer of the season.
"When he started singing, I'm thinking this guy's gonna be a massive star," Cowell recalled.
RELATED: This Is Why Simon Cowell May Be Quieter Than Usual During AGT 18 Auditions
Turns out, the one-time record executive was right. According to Cowell, Scott is now "one of the biggest solo male artists in the last 10 years" in the UK. 
Avery Dixon, America's Got Talent Season 17
It's hard to forget the talented teen saxophone player who turned to music after facing years of relentless bullying.
"I was nervous when I heard his story and I'm praying I really hope you're good, and he was more than good, he was brilliant," Cowell said of music sensation Avery Dixon. 
Dixon's high-energy performance got the crowd on their feet and had Crews so inspired he bestowed his Golden Buzzer — but not before delivering a tear-jerking speech.
"You tell every bully that you have a big brother named Terry Crews who is here, who has got your back, and all those bullies are going to have to watch you succeed," Crews announced to the teen.
The former NFL player still takes his self-appointed role to heart.
"I'm still his big brother to this day," he told Cowell.
Ashleigh & Pudsey, Britain's Got Talent Series 6
There have been plenty of four-legged friends to grace the talent show stage, but for Cowell, one act is a tail above the rest. 
It's been more than a decade since Ashleigh and her canine friend Pudsey graced the stage of Britain's Got Talent in 2012, performing an adorably coordinated dance to The Flintstones theme song that had the furry pup leaping, spinning, and dancing on his hind legs.
 "Of all the animal auditions I've ever seen, this was my favorite," Cowell said.
Cowell commended the mixed-breed pooch for being "so smart." The pair was eventually crowned top dog, taking home first place honors that season.
"Pudsey the dog was amazing, but Ashleigh the trainer was also amazing," Cowell told Crews. "She was just fun." 
Ben Lapidus, America's Got Talent Season 17
Ben Lapidus may have grated on the nerves of AGT Judges, but the audience had nothing but love for this cheese aficionado. 
"History was made because it was the first time an Act with four red buzzers had it taken it away," Crews said of the memorable audition. 
Lapidus took the stage to sing about his love for parmesan, singing the catchy line, "I always want more parmesan, but I'm embarrassed." 
All four Judges were ready to give him the boot, but the audience began loudly chanting, "Parmesan!" and Lapidus refused to leave the stage, instead launching into another round of the original song.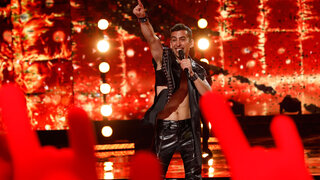 "I'm looking around at this audience thinking you have all gone insane," Cowell remembered. 
After 10 minutes of the audience loudly singing along, the Judges — except for holdout Howie Mandel — relented and took back their Xs allowing Lapidus to move on in the competition. 
"I never would have put this Act through if it wasn't for the audience," Cowell said of the power of persistence — and parmesan. 
Sacred Riana, America's Got Talent Season 13
Like something straight out of a horror movie, Sacred Riana had AGT Judges trembling in their seats during this chilling audition. 
"I was terrified," Cowell recalled.
Equal parts sheer terror and magic, Sacred Riana — who came out clutching a doll wearing a red dress to match her own — used an old newspaper clip about 12 people killed in a fire with a suicide victim to blame to set the stage for a eerie magic trick that left Judge Mel B screaming in fear. 
Cowell gave her a red X simply because he told Mandel he just wanted "this to end," but the remaining Judges gave her the votes she needed to advance. Even today, Cowell seems a little unnerved by the performance. 
"I believe that she had some weird power to do what she did," he told Crews. "It was a little bit like we were cursed and I would say that's why she's on the list."
Drake Milligan, America's Got Talent Season 17
When country singer Drake Milligan took the AGT stage in 2022, he exuded the same confidence (and hip moves) of his idol Elvis Presley.
"It's one of my favorite singing auditions," Cowell said. "I use him as an example of how to nail an audition." 
The veteran Judge commended Milligan for being "authentic" and "confident" about who he was as an artist. 
"I'll always, always, always remember that moment and thinking, a star is born," he said.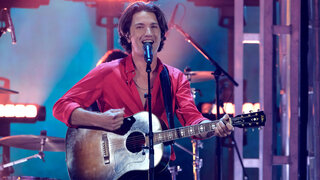 Milligan — who once portrayed Elvis in the CMT series Sun Records — finished in third place that season and has since been nominated for Country Music Awards. 
"I mean he's just doing brilliant," Cowell said.
Zurcaroh, America's Got Talent Season 13
This gravity-defying act in Season 13 had Cowell thinking he was "in a movie." 
"I couldn't believe it," Cowell said of the Brazilian-based acrobatics act Zurcaroh. 
The talented group of performers amazed the AGT audience and Judges with their human jump rope and terrifying acrobatics that had one gymnast soaring through the air across the stage. 
"There is something in the air right now. I've done this a long time and this is honestly one of the most incredible things I've ever seen on any of these shows," Cowell told the group after their heart-stopping audition.
RELATED: See Every One of Terry Crews' Golden Buzzer Moments on America's Got Talent
Then-AGT host Tyra Banks was so moved, she rushed out to slam the Golden Buzzer. 
"This was one of the most intricate auditions and every single person has to play this part," Cowell told Crews. "This was, I mean, mind boggling." 
Shin Lim, America's Got Talent Season 13
Simon Cowell admittedly isn't a fan of card magic, but there's one such magician who blew him away. 
Coming in at number six on his most memorable list, Cowell gave credit to master magician Shin Lim, who wowed the audience during his audition with a series of card tricks so intricate even Cowell was left wondering how he pulled it off. 
"I hate cards, I mean I like big magic normally, however, he had this real cool confidence," Cowell said. "He looked great." 
Lim's talent was no illusion. He'd go on to win Season 13 of AGT and also took first place honors in AGT: Champions.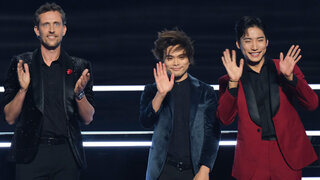 According to Cowell, his act is now one of the "hottest tickets" in Vegas. 
"I mean, to achieve that off the back of this, that makes me really proud," Cowell said. "I love it when great things happen to these contestants and he deserved it." 
Archie Williams, America's Got Talent Season 15
Cowell has seen hundreds of auditions during his time on the Got Talent franchise, but Archie William's inspirational story is something he "will never, ever forget."
Williams spent 37 years behind bars for a crime he didn't commit before DNA ultimately exonerated him and set him free. 
"I knew I was innocent. I didn't commit a crime but being a poor Black kid, I didn't have the economic ability to fight the state of Louisiana," Williams said on the show. "I was sent to Angola State Penitentiary. It was classified as the bloodiest prison in the United States. You had a choice to either be strong or weak when you know you're faced with dark times, what I would do is I would pray and sing." 
Williams blew the Judges away when he alluded to his struggle behind bars and sang Elton John's "Don't Let The Sun Go Down On Me." 
"He sang with such passion and he chose that song with that lyric, I'm like 'My god, what must you be thinking right now after that?' when he saw the audience, you know after what he went through," Cowell said of the standing ovation he received.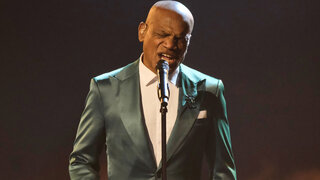 Cowell added that he thought he made a "real difference" by sharing the emotional story. 
"I think a lot of people didn't know this kind of thing happened and myself included, to be honest with you," he said. "Over the years, you meet these incredible people and they share you know sometimes these horrible stories like that but at the same time there's something positive at the end."
Men With Pans, America's Got Talent Season 12
Not all memorable auditions translate to the best auditions and, according to Cowell, this was the case with Men With Pans.
The men stunned the Judges when they tossed aside their chef uniforms to come back out onto the stage naked with just four frying pans held strategically to hide their more private places as they danced and did some carefully crafted acrobatic moves.
"You've got to be good friends to do this act," Cowell said.
While Cowell gave the duo a no, the rest of the Judges let the "hilarious" Act through. It was a huge hit with fans as well. Cowell said the next day he got a call that the clip of the Act was getting "crazy" high views from fans who couldn't get enough of Men With Pans.
"It just shows you what our audience liked to see," he joked. "If that's what they want, we'll give them more." 
Mayyas, America's Got Talent Season 17
If you're looking for the "perfect" AGT audition, look no further than the Arabic dance group Mayyas, according to Cowell. 
After sharing that dance was not fully embraced by their culture, the women said they wanted to appear on AGT to "prove to the world what Arab women can do, the art we can create, the fights we fight." 
They quickly captivated the audience with their optical dance moves that had the group appear like one cohesive moving shape, earning them a standing ovation and the coveted Golden Buzzer from Judge Sofia Vergara.