NBC Insider Exclusive
Create a free profile to get unlimited access to exclusive show news, updates, and more!
Sign Up For Free to View
Inside Chapel Hart's 'Perfect' Audition That Got Them the 2nd-Ever Group Golden Buzzer
The girl band's song "You Can Have Him, Jolene" was a clear hit.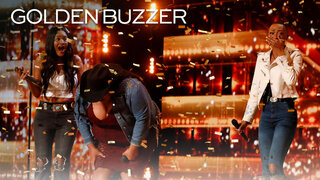 Every America's Got Talent Judge (and Host Terry Crews) may have already used their Golden Buzzer this season, but that didn't stop them from recognizing one Act in a big way.
From the second girl band Chapel Hart took the stage during July 19th's episode, you could tell they were special. The group—sisters Danica and Devyn Hart and their cousin, Trea Swindle—charmed the audience with their exuberant energy. But it was the Mississippi natives' original song, "You Can Have Him, Jolene", that ultimately had the crowd on their feet. Danica explained that the track served as a response to Dolly Parton's 1970s classic, "Jolene." 
"We've always been country music fans, and Dolly is by far our favorite," she said. "We were so inspired by the song 'Jolene;' we just love the storyline. And we figured, though, from 1973 to 2022, we could not still be fighting over the same man, so we decided to tell her, 'You can just have him, Jolene.'"
Though the group has been singing with each other since they were kids (and they're already earning accolades around the world), Danica told the Judges it's been difficult to nab their big break in the U.S. as Black country singers. "We've been trying to break into Nashville for the last couple years, but it's been kind of hard when I think country music doesn't always look like us," she said. 
Howie Mandel had the perfect response: "I love the song, I love the energy, I love the look. You say country music doesn't look like you; that is your win, because you are going to be the original."
Simon Cowell was equally impressed. "Trust me, I needed you today. I mean, that was fantastic," he said. "I love you, and I love the choreography going on around you. It was just brilliant…You've just got to break down that door, and you may have just broken down that door with that performance, trust me."
Ultimately, Crews and the entire panel decided that Chapel Hart was too special to pass up, and all five of them awarded the band a Group Golden Buzzer. They are the second Act to receive the honor in the show's history. The first was 9-year-old Victory Brinker during Season 16 Auditions.
"Everything was perfect. The song, the energy," Sofia Vergara said. "You guys look like you've been doing this for a long time, and I'm so proud of you guys."
With that, the girl band was automatically advanced to the Live Shows. If you want to hear more songs like "You Can Have Him, Jolene" in the meantime, they already have two albums: The Girls Are Back in Town and Out the Mud. They also have tour dates through November 2022 that you can find on their website.