NBC Insider Exclusive
Create a free profile to get unlimited access to exclusive show news, updates, and more!
Sign Up For Free to View
The Internet's Favorite, Pedro Pascal, Guest Starred on 3 Different Law & Order Series
Before he was a viral sensation, the actor was fighting (and occasionally committing) crime on Law & Order.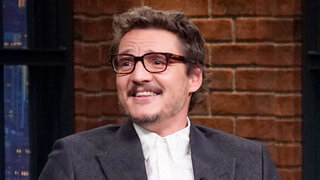 To say that Pedro Pascal is currently an internet sensation is almost an understatement. The hashtag #PedroPascal currently has over 6 billion views on TikTok and 300,000 posts on Instagram, and the monologue and sketches from his Saturday Night Live hosting debut in February 2023, like the Mario Kart Trailer parody, have already amassed over 40 million views on YouTube.
In recent years, Pascal has skyrocketed to fame with starring movie and TV roles in The Last of Us and The Mandalorian. But like many famous actors, he made some top-notch Law & Order guest appearances prior to hitting it big. Before Pascal's current leading roles across television and streaming, he had guest spots on Law & Order, Law & Order: SVU, and Law & Order: Criminal Intent.
As if his comedic appearances in SNL weren't enough, revisiting Pascal's multiple Law & Order roles makes his incredible range abundantly clear: From a drug-busting detective to an actor-turned-kidnapper, Pascal's Law & Order characters are truly all across the board.
Read more about Pascal's Law & Order roles and how to stream the episodes, below. 
Law & Order: SVU Season 12, Episode 24 ("Smoked"), 2011
In 2011, Pascal had a Law & Order: SVU appearance in the action-packed Season 12 finale ("Smoked"). Pascal's character, Special Agent Greer, was accidentally involved in an SVU case when two crimes overlapped. The episode started with the murder of Annette Fox, who was one week away from her rape trial against her accused attacker, Luke Ronson.  
Though Ronson was a key perpetrator under the SVU jurisdiction, it became clear that he and a co-conspirator, Eddie Skinner, were involved in an illegal cigarette smuggling ring. Because of the drug connection, Pascal's Agent Greer from the Bureau of Alcohol, Tobacco, Firearms and Explosives (ATF) became entwined with the case, butting up against Olivia Benson (Mariska Hargitay) and Elliot Stabler (Christopher Meloni).
We won't spoil too much of the episode, but just know that Pascal's character is not as lucky as Joel from The Last of Us when it comes to narrowly escaping violence. Watch a clip of Agent Greer denying Benson and Stabler access to a highly important suspect, above, and stream the full episode on Peacock.  
Law & Order Season 18, Episode 10 ("Tango"), 2008
In Season 18 Episode 10 of Law & Order ("Tango") we meet Pascal as murder suspect Tito Cabassa. The 2008 episode centers around a missing person case: A drunk teenager walked away from a tow lot and never came back. Detectives Cyrus Lupo (Jeremy Sisto) and Ed Green's (Jesse L. Martin) search for the missing girl led them to pimp Tito Cabassa (played by Pascal.) 
Tito's girlfriend, Melinda, told the detectives about the connection and that Tito had taken the missing girl up to his hotel room. When the girl was found dead, Tito became a key suspect in the murder case. 
Stream the full episode on Peacock to find out what happens and see Pascal in a "bad boy" role. 
Law & Order: Criminal Intent Season 6, Episode 10 ("Weeping Willow"), 2006
Pascal also had a guest role on Criminal Intent in 2006, in yet another villain-adjacent role. In the episode, fellow guest star Michelle Trachtenberg played a teenage blogger who went by the alias WeepingWillow17 and was kidnapped on camera while streaming video to her followers. As Detectives Mike Logan (Chris Noth) and Megan Wheeler (Julianne Nicholson) searched for the answers, the public began to question if the kidnapping was faked for views.
Pascal's character, actor Reggie Luckman, was identified as one of the kidnappers on camera and claimed the whole thing was scripted. But the potentially-faked video turned gruesome shortly after and, when one of the other "kidnappers" was found dead at the scene, the detectives probed Reggie further.
Stream the full episode on Peacock to see the story play out. 
Watch Law & Order Thursdays at 8/7c on NBC and next day on Peacock.
Watch Law & Order: SVU Thursdays at 9/8c on NBC and next day on Peacock.