NBC Insider Exclusive
Create a free profile to get unlimited access to exclusive show news, updates, and more!
Sign Up For Free to View
Pedro Pascal's Surprising Last of Us SNL Sketch Has Fans Losing It
Fans are already freaking out over Pascal's Saturday Night Live debut, airing February 4.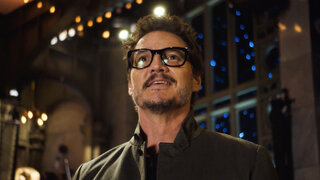 In case you didn't know, Pedro Pascal is set to host Saturday Night Live's February 4th episode (along with musical guest Coldplay). But before he's even unveiled his anticipated monologue, the actor is already going viral for a brief clip that was released ahead of the show.
In advance of his gig, SNL released a hilarious sketch featuring the actor that offers a nod to his hit show, The Last of Us. The sketch starts out innocently enough, with Pascal marveling at being in Studio 8H. "Little Pedro Pascal from Santiago, Chile hosting Saturday Night Live. Wild," he says before hearing a mysterious noise backstage.
That's when he finds what appears to be a Clicker, a.k.a. the monstrous zombies his character fights in The Last of Us. He nearly takes a hammer to the creature's head before SNL's Sarah Sherman and Molly Kearney reveal the Clicker is actually a new cast member named Matt.
"Listen, I know it's your first time hosting, but a little advice: Don't hit the cast members with a hammer, you maniac," Sherman says.
Kearney adds, "Look, we're gonna get past this, but I gotta be honest—not the best first impression. Get better."
Fans couldn't get enough of the clip, replying with "Viva Chile!," declaring their love for Pascal, and calling him "perfect," "amazing," "daddy,"...well, you get the picture. 
SNL also released adorable photos of Pascal from his read-through of the show earlier this week, and of course, that sent admirers into another round of hysterics. 
And last, but certainly not least, fans were treated to a delightful video that saw Pascal enthusiastically dancing with a Clicker (a.k.a. Matt) to Latto's hit "Big Energy." Yes, it's just as great as it sounds.
Something tells us that Pascal's SNL debut will be an episode we'll never forget.
Watch Saturday Night Live on NBC Saturdays at 11:30/10:30c and next day on Peacock.