NBC Insider Exclusive
Create a free profile to get unlimited access to exclusive show news, updates, and more!
Sign Up For Free to View
Pedro Pascal to Host February 4, 2023 Episode of SNL, Coldplay to Perform
Watch the talented Artists perform on Saturday, February 4, 2023 at 11:30/10:30c on NBC.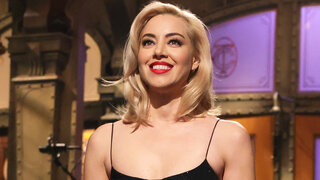 Now on its 48th season, Saturday Night Live never fails to disappoint with its amazing lineup of celebrity Hosts and musical guests. Aubrey Plaza and Sam Smith totally killed it during their January 21, 2023 performances, and we are eager to see what Michael B. Jordan and Lil' Baby bring to the table on January 28. But who should we expect to see on the February 4, 2023 episode of Saturday Night Live? Keep reading to find out.
Who is hosting the February 4, 2023 episode of Saturday Night Live?
Pedro Pascal!
A seasoned veteran of the acting industry, Pascal got his first big break in the fourth season of Game of Thrones as Oberyn Martell. Since then, he is mostly known today for playing the title role in the hit Disney+ series The Mandalorian.
His most recent endeavor is playing one of the lead characters, Joel, in the HBO drama The Last of Us. The new, critically-acclaimed series is based off a popular video game of the same name.
This will be Pascal's first time hosting on the Saturday Night Live stage, and we can't wait to see what the talented actor has in store for us with his comedy chops!
Who will be the musical guest on the February 4, 2023 episode of Saturday Night Live?
Coldplay!
The Grammy Award-winning band is currently promoting the world tour for their ninth studio album, titled Music of the Spheres.
This isn't Coldplay's first time on the Saturday Night Live stage, as they have been musical guests a whopping six times previously.
During their 2019 appearance, the band performed two songs titled "Orphans" and "Everyday Life" off their eighth album, Everyday Life. During the performance of "Orphans", lead singer Chris Martin made his way out to the audience and danced excitedly along with the eager crowd. When it came time to perform "Everyday Life," the band went into ballad-mode and gently strummed the soft tune.
Given the success of their previous performances, we have no doubt that Coldplay will bring even more awesome-ness to Saturday Night Live!
Watch Saturday Night Live on NBC Saturdays at 11:30/10:30c and next day on Peacock.